This 2022 I had the pleasure of working many days in the magnificent city of San Sebastian and I even had time to stroll in the city taking time to focus on small details.
The most iconic symbols of the city of San Sebastian are the Concha Bay is its gorgeous handrail. This balustrade was designed by the Spanish architect Juan Alday in 1910, it took six years to build and place its 1355 pieces. It was inaugurated by King Alfonso XIII in 1916.  The design costed 5700 pesetas, about 35 Euros. It was a small fortune at the time.
This iconic design consists of two concentric circles decorated with a crown made of bay leaves and a flower facing the city. Well, not really all the flowers face the city, only one faces the ocean, she is called the "smart flower" It is said that when you visit San Sebastian, and you find the smart flower you will return to the city in a short future.  Just a little hint, it is between two big clocks…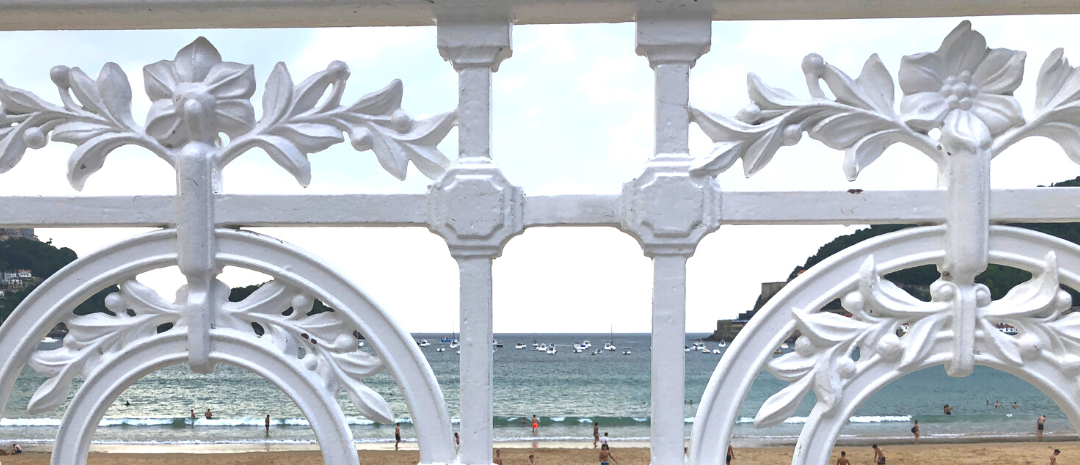 There is another section which is totally different from the rest. It is next to the thalassotherapy spa called La Perla, and it is a distant reminder of the original location of the Spanish Royal bath house.
You may be wondering if there was a previous handrail at the bay, and the answer is yes. The original one dates back to 1882 and was designed by a local architect called Mr. José Goicoa. It was a very simple design, just two horizontal bars. This original handrail didn´t last long, and it was redesigned once again by Mr. Goicoa in 1895. This second design was a repetition of elongated hexagons.  If you want to see the three handrails at the same time, you must visit the Miramar Palace, located in the middle of the bay.
As you can imagine, the wind and the sea salt are not friendly to the iron balustrade and must be constantly repaired. The first big restoration took place in 1999, and each of the sections was removed and checked. In 2023 a second mayor restauration has taken place and now the handrail looks perfect.
As a curiosity, let me share with you that every April 29, to commemorate the international ballet day, La Concha handrail becomes the world's largest ballet barre as thousands of ballerinas perform here.