adrenaline rushing trhough your blood flow!
Let us help you make the best of this experience!
EXHILARATING, INVIGORATING, UNFORGETABLE.
– Is the running of the bulls next item on your bucket list?
– Are you and your friends thrill seekers?
-Want to experience the excitement of a week long festival in the company of locals who know how to play the game?
If the answer to any of these questions is YES!, then talk to us. We are locals, and know all about this "crazy" week of the running of the bulls. We also understand that it is frustating when you are on the other side of the world, and you don´t know if you are booking a real balcony spot or maybe it is all a scam. Well, we have been working as local guides in town for over 20 years, a few years ago we created www.pamplonafiesta.com  to help all the guests that arrive to Pamplona during San Fermin festival. We have been recomended by the New York Times, Rick Steves and many more.
This balcony is a great vantage point along the Estafeta for the running of the bulls. The breakfast spread was a very welcome addition as we had been living on bocadillos and coffee. Also, having knowledge of the bull run tradition and history was a nice touch that enhanced our understanding of the festival.
Brilliant opportunity to watch the Running of the Bulls, a bucket list activity ticked! Francisco was awesome in ensuring all the arrangements ran like clockwork, with excellent communication throughout.
Thank you Francisco, we will recommend you to all who ask after our experience.
VIVA SAN FERMIN!!!
LET US KNOW WHAT YOU NEED HELP WITH!
We are locals and we have been helping guests to make the best of this life changing experience, for the las 20 years. Let us know what you are looking for. Do you ned a balcony spot to watch the running?  Are you looking info about how to learn how to run away from an stampide? We can help you with anything.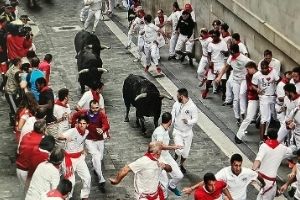 RUNNING OF THE BULLS BALCONY SPOT
Best balconies in San Fermin fiesta. We have a very wide variety of balconies in the main street area, for instance, Mercaderes, Death's man corner, Estafeta and Santo Domingo street. If you are coming to the running of the bulls  in Pamplona, do not miss out.
Once in a lifetime event.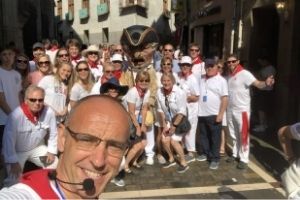 PAMPLONA CITY TOUR
Discover why we are the way we are and why we do the things we do with a friendly and very knowledgeable guide. Let us share some of the locals' secrets with you and discover why even a literary genius like Hemingway couldn't resist falling in love with our city.
Make the most of your time while in Pamplona! Join us for a Pamplona City Tour!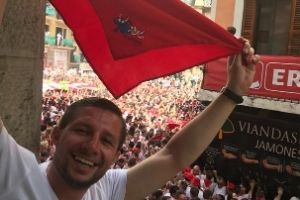 OPENING CEREMONY BALCONY SPOT
Live San Fermin's renowned Opening Ceremony (EL Chupinazo) from one of our ideally located balconies and enjoy an unforgettable view over Town Hall Square and a sumptuous Spanish-style brunch spread before 12:00 am.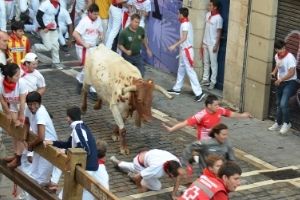 LEARN HOW TO RUN TOUR
Have you ever had to navigate your way through a stampede of uncontrolled bulls in a crowded and narrow alley? Are you planning to? Then, you need to join us on our Learn how to run Tour.
Regardless of your fitness levels and your running skills, if you are planning on running with the bulls in San Fermín, you need to learn how to minimize risks from our experienced runners.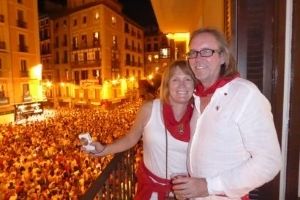 CLOSING CEREMONY BALCONY SPOT
Watch the collective sadness of a town that doesn't want to end the festivities unfold on the night of the 14th of July from the comfort of a strategically located balcony with sweeping views of Town Hall Square!
DO YOU WANT TO CUSTOMIZE YOUR SAN FERMIN EXPERIENCE?
Planning a trip with friends or family?
We'll be thrilled to design the tour that best suits your personal tastes and preferences.
All you need to do is send us a message and we'll start customizing the perfect RUNNING OF THE BULLS experience for you!
GET IN TOUCH NOW
Learn more ABOUT the running of the bulls in our journal
Discover the running of the bulls in a unique way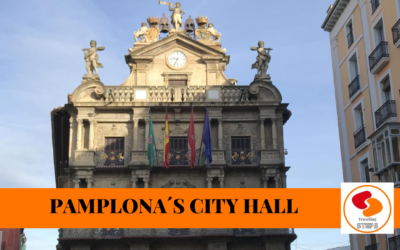 Pamplona´s town hall is the center point during the week of the running of the bulls. Everything starts here on July 6th at noon. About 12000 people gathers in the square to celebrate San Fermin. It is a moment of joy and party, unfortunatelly not too many people...
read more