The Camino to Santiago will change your life
Join us in this life changing experience
Join the CAMINO!
The Camino to Santiago tour is a once in a life time experience. Join our small group (up to 12 people) and discover the history behind the Camino.
Don´t panic, we are not walking 500 miles, although we will have the option to walk parts of the trail. We will for sure enjoy some of the most amazing cities in Spain, learn about the history, traditions, and of-course enjoy the gastronomy and wines of northern Spain.
Be part of the CAMINO!
In a small group of no more than 12 persons, we will explore this beautiful part of Spain , where history, art and gastronomy walk together.
Time on your own to reconect with yourself,
Hiking along the pilgrims' route,
City tour in Burgos,
City tour in Leon,
City tour in Santiago de Compostela.
You will become part of the legacy of this ancestral route. A trail that was walked by Emperors, Kings and Queens, but also by Popes, Saints, Knigts, trubadors and maybe by some of your ancestors.
This walk pilgrimage does not only apeal to religious people, many of the hikers are agnostic. We are all people seaking for the real values in human kind. Values such as friendship, love, inner stregth…
Share these precious moments with likeminded people and experience first-hand the warmth and hospitality northern Spanish people are renowned for!
Although the cities we visited were fantastic, to me, the most incredible moments were the ones actually walking on the Camino
I became a pilgrim for 10 days!
Walking the Camino was more powerful than I thought it would be. I will cherish my pictures, pictures from my camera and from my heart.
And let´s talk about the amazing food and incredible wines.
Learn more ABOUT OUR "CAMINO" TOUR
Discover the Camino de Santiago in a unique way
DISCOVER THE TOUR DAY BY DAY
The order in these daily activities might be altered, due to weather predictions, or if there is a special festivity in a nearby location that we think might be interesting.
All the possible changes, will be to try our best to make your staying with us, a real insider experience.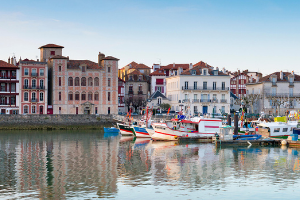 DAY 1
We will all meet at the hotel in SAINT JEAN DE LUZ  at an assigned time (to be set) to get know each other.  On our way to our first dinner together, we will learn about the history of this gorgeous village.
WELCOME TO THE CAMINO!!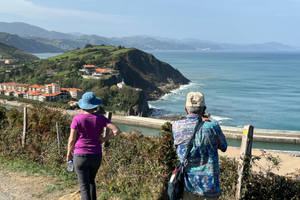 DAY 2
After breakfast, we will drive to the coastal town on ZARAUTZ, where we will walk our first part of the CAMINO, about six miles al the way to ZUMAIA. Remember if you don´t want to join the walk, our bus will drive you to the hotel.
After lunch together we will head up towards Pamplona, where we will have a city tour and a light tapas dinner all together.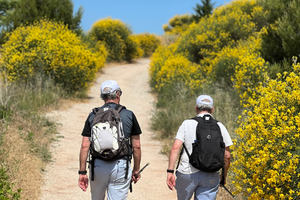 DAY 3
This morning we  will be walking part of the Roman via from PUENTE LA REINA to CIRAUQUI (6 miles) Once again, if you don´t wish to walk the bus will take you to our meeting points.
We will visit Estella and have lunch together. From here we are going towards LAGUARDIA, an amazing little village in La Rioja.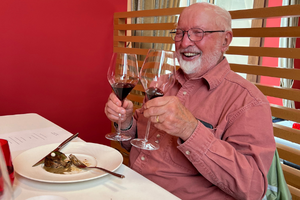 DAY 4
Today is the day to learn (and taste) about the fantastic wine from LA RIOJA  wine region.
First we will discover the history of La Guardia, once we know about it, we "need" to learn about wine. We are going to  visit a couple of the most spectacular wineries in RIOJA.
Lunch together, dinner on your own.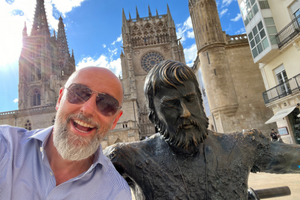 DAY 5
Today we will drive directly to Burgos, home of the Cid Campeador, where we will learn about Burgos history with our local guide. We will also visit the most beautiful gothic Cathedral en Spain.
We will have lunch together. On the afternoon you will be on your own to make the best of the city at your own taste. Dinner on your own.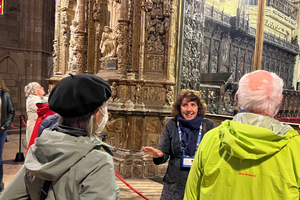 DAY 6
Today we are going to discover LEON, the capital city of the old Kingdom that holds its name, with our local guide. We will be able to enjoy the best preserved gothic stained glass windows in Spain, but also one of the few buldings that Gaudi constructed outside Cataluña.
We will have lunch together. Afternoon and dinner on your own.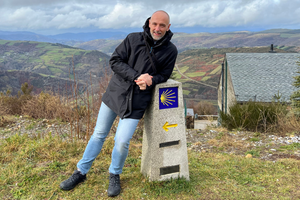 DAY 7
It is time to leave Castilla behind and enter GALICIA. Today we will become pilgrims, and we are going to rough it up a little bit. We will be walking about 6 miles.
Tonight we will be hosted in a humble pilgrims hostel, we want to feel the real Camino, but don´t panic, you will have a bathroom in your room.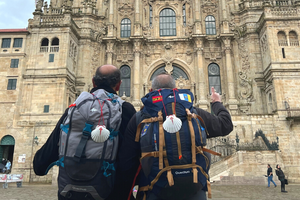 DAY 8
Today we are going to spend all morning discovering the magnificent city of SANTIAGO DE COMPOSTELA with our local guide. 
Lunch  and afternoon on your own.
We will join our glasses in our last dinner together.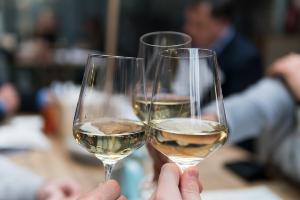 DAY 9
After breakfast we will have to say goodbye. Let´s hope that our paths join in the future.
BUEN CAMINO AMIGOS!
Here is what you will learn and experience on our "CAMINO Tour":
Saint Jean de Luz walking tour
Walk different parts of the Route
Pamplona walking tour
Wine tasting
Be hosted in historical hotels
Burgos walking tour
Eat at a amazing restaurants
Become a pilgrim
Leon walking tour
All breakfast included
Attend a mass in Santiago…and much more
Plus you'll get all this, too.
A small  group of maximum 12 travellers.
Full-time services of a professional  guide and local experts.
All group transportation.
8 nights' accommodations.
All breakfasts, and lunches.
All tips for guides, driver, mades…
Guaranteed tour price, locked in the moment you make your deposit
50% discount for 1 person when you organize a full group (min 10 PAX)
Fine print: You are responsible for the cost of your drinks and free-time sightseeing.
WHAT'S NOT INCLUDED
Flight from/to your home to starting point.
Our tour starts in Saint Jean de Luz and ends in Santiago de Compostela. How you arrive and depart from here is on you. We can help you find the best way to arrive to Sain Jean de Luz, and the way to continue your trip from Santiago de Compostela.
Our tours don't include airfare, so your flight arrangements and transfers are completely up to you.
Here are the things that very often we overlook but that will change your experience of the tour:
FITNESS LEVEL
You should be an active traveller, this tour will require at least 3 hours of dayly walking!
The name of our company is Traveling STEPS, so as you can imagine, all our tours are physically active!
YOU'LL NEED TO HAPPILY… 
Carry/roll your luggage up the stairway of the some hotels in orther to reach your room.
Be on your feet, walking and standing, for up to four hours, indoors and outdoors, in all weather conditions.
Sleep with weak od no air conditioning.
After orientation and transportation lessons, be able to navigate towns and cities on your own.
Eat group dinners as late as 9 p.m. (you are in Spain….)
Be ready to walk up to 9 miles with your group.
BEST TIME TO TRAVEL
Northern Spain is gorgeous year-round although it can get quite wet in spring and fall! But what's a little rain?!
Any time between May and late October is a good time to discover The CAMINO. However, the months of May, September, and October offer the best combination of good weather and lighter crowds at sights. September and October don't have long days, but the forest is gorgeous!
Remember to pack a coat, mornings and evenings are chilly, no matter the month of the year.
DO YOU WANT TO CUSTOMIZE YOUR OWN CAMINO EXPERIENCE?
Planning a trip with friends or family? Are you hikers, cyclists, runners, foodies, or a group with common interests?
We'll be thrilled to design the tour that best suits your personal tastes and preferences.
All you need to do is send us a message and we'll start customizing the perfect CAMINO experience for you!
GET IN TOUCH NOW
Learn more ABOUT the CAMINO in our journal
Discover the Basque Country in a unique way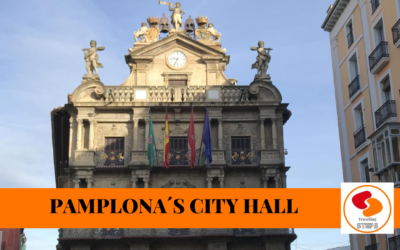 Pamplona´s town hall is the center point during the week of the running of the bulls. Everything starts here on July 6th at noon. About 12000 people gathers in the square to celebrate San Fermin. It is a moment of joy and party, unfortunatelly not too many people...
read more