All around the world now it is fashionable to eat at tapas bars. Guess what!! It all started here in the Basque Country and Navarra. By the way, here we call them pintxos
A tapa in the rest of the world is a small bite. That is what it is, although here those bites are culinary delights. Normally served over a piece of bread, you can find toppings of crab salad, cod fish, sirloin, blood sausage, mushrooms, you name it. Unless you have a dietary restriction, I recommend trying whatever appeals to you. Don´t ask what is in the tapa, just give it a try and think that if you don't like it, you are just throwing away 3 or 4 Euros.
But tapas are much more than just amazing food. It is also about the experience that goes with it. First you will have to find the courage to talk to the waiter and use those four Spanish words you thought you would never use. Then you will have to decide what tapa and wine you want. Once you have your food and drink, you will fight for a spot on the counter or on a stand-up table. Now that you are settled, you can enjoy your tapa, while chatting with people you have never met before.
It might sound a little bit overwhelming, but once you get a hold of it, you will love it!
Here is a selection of my favorite tapas bars in my hometown Pamplona.
Gaucho – (Espoz y Mina 7)
Gaucho is a classic in town. It is located right behind Plaza del Castillo.
The "truffle egg" (huevo trufado) is their best-known tapa. If you like grilled foie (liver), theirs is incredible. French people cross the border just to eat their foie. I also love their tuna lasagna or the spinach and shrimp roll. To tell you the truth, everything on their counter is good.
They have an interesting selection of wines, many of them are local wines from Navarra and Rioja.
If all of these is not good enough for you, there is onother plus to Gaucho. They serve some of the best Gin and Tonic's in town.
There has to be something not that perfect in this perfect bar. Well if I have to look for something, it has to be that the place is small and it is always super crowded, so if you have a chance to get a table outside, get it!
ZANPA Tapas bar_ (Estafeta 48)
They are just a couple of years old, and they are doing a great job. Zanpa Tapas bar is located halfway down Estafeta Street.
Their specialty is the "tortilla de patatas". This omelet with potatoes and onion is really one of the best ones in town.  I also love their crab salad tapa. If they have a professional Spanish ham cutter, you should try it.  During the week of the running of the bulls, the usually have a fresh Oister bar.
At the back of the bar, they have a small restaurant with great local food. If you are here in summer time, you should try their tomato salad, it's simple but exquisite.
Iruñazarra – (Mercaderes 15)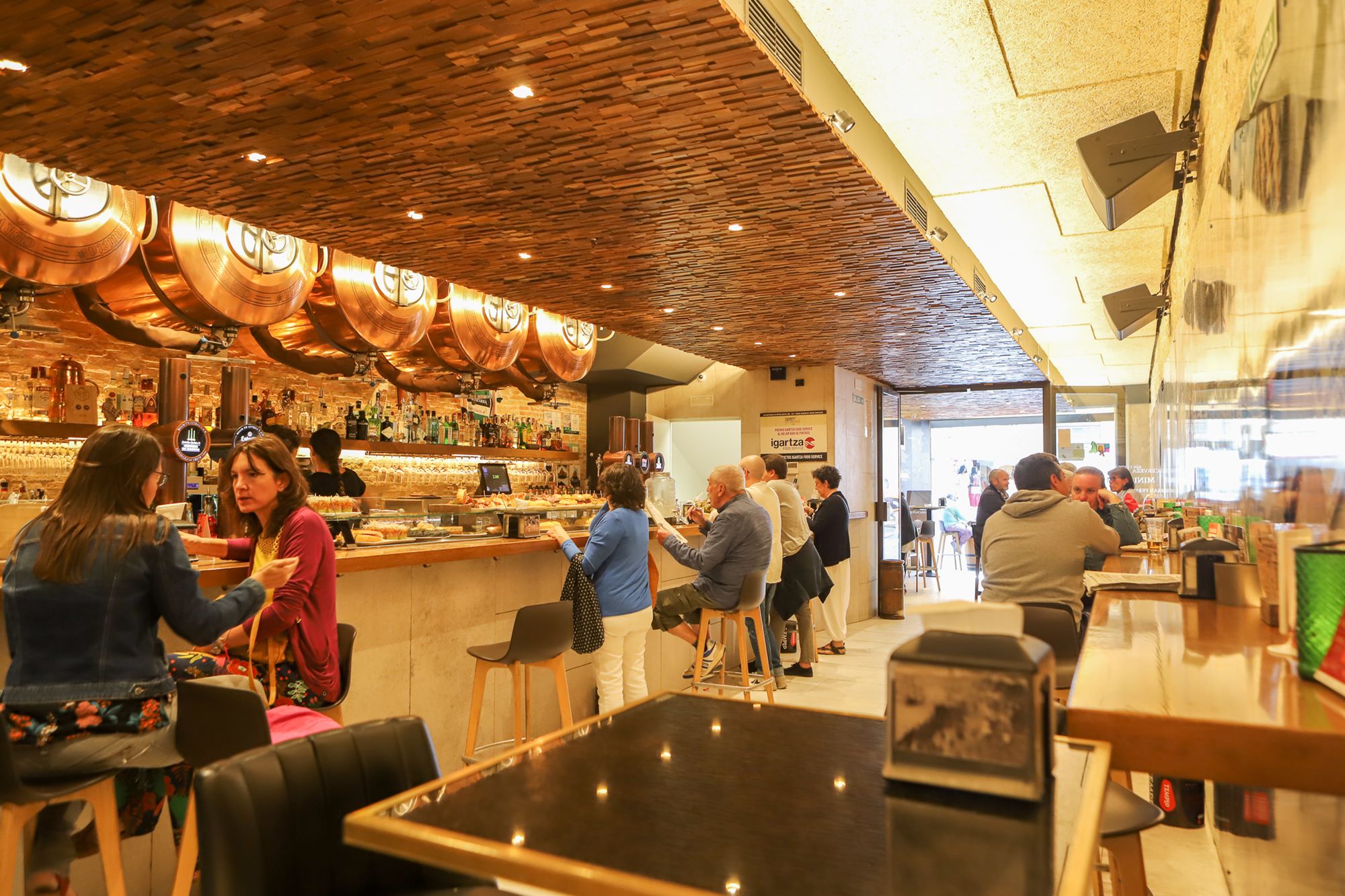 Iruñazarra is located in Mercaderes Street, right at the famous spot where the bulls crush against a wall during the running of the bulls. You might have heard about this place as "Dead man's corner". In fact, nobody has died here, but The New York Times bitized it like this. Go wander!
They have one of the largest counters, everything is good. One of the things I like is that the tapas they serve are what you see. What I mean is that if you see ham, it will taste like ham, if you see artichoke, it will taste like artichoke. They are great quality without fakeness… By the way, at the back and under stairs they have a great restaurant.
Mandarra de la ramos – (San Nicolas 9)
La Mandarra de la Ramos is easy to spot, they have many hams hanging from the ceiling. So, as you can imagine, most of the tapas have Spanish ham, so vegans, please don't come in, you will faint (LOL).
They are well known thanks to their toasts. To me it is hard to choose just one, because all of them are incredible. Maybe the toast with fried eggplant would be my favorite. When you eat two toasts, it is all you will need for a light dinner.
If you are looking for a seat down dinner, they also have a restaurant at the back of the bar. You need to go through the bathrooms, it is really at the back. It is not as good as Zanpa or Iruñazarra, but it is a bit cheaper.
By the way "la Mandarra de la Ramos" means the apron of Ms. Ramos. Just in case you needed to know.?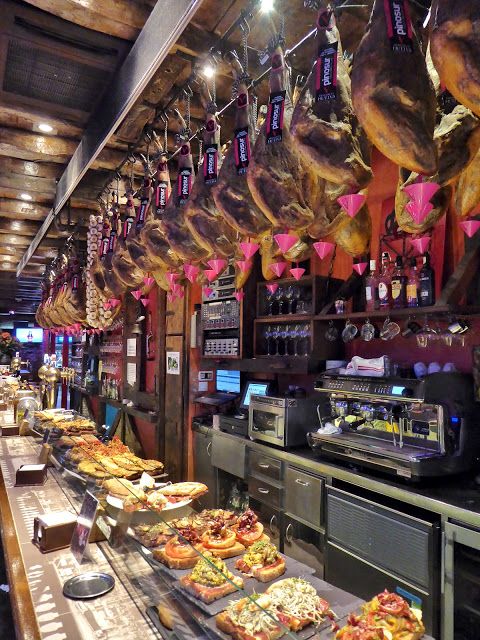 Baserriberri – (San Nicolas 32)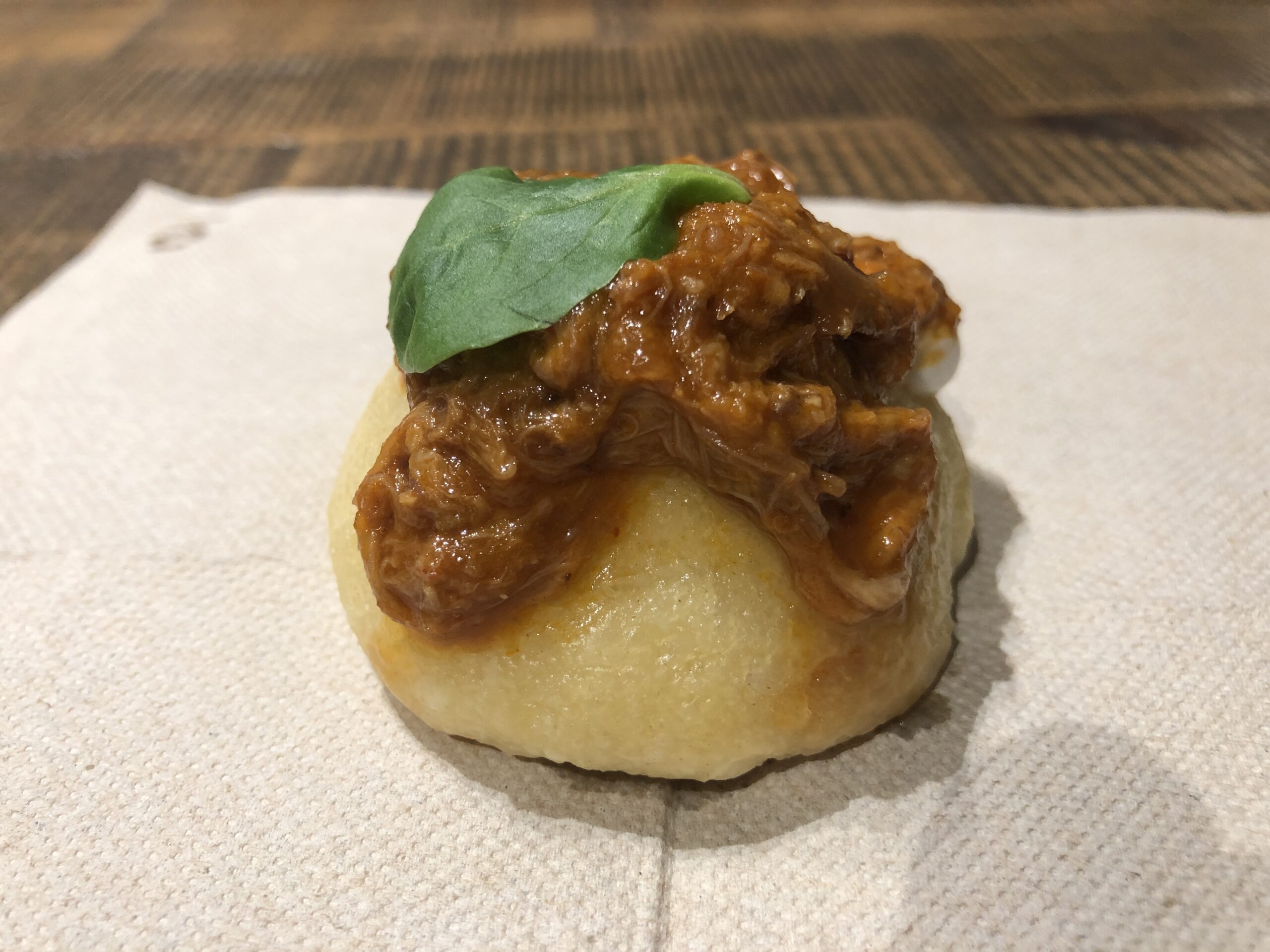 Baserriberri is all about show business!!!!
Their pintxos are the most modern and spectacular ones in town. They have a 3D printer, they use liquid nitrogen, they have it all. And what makes them great is that it is in fact good food.
I love their "bombeja" It is a brioche bread filled with sheep's milk, and has sheep meat on top. If you ask for the bombeja, you'd better have your camera ready on video mode. It is amazing! 

As I normally say, there are 10000 different tapas bars in Pamplona. So, if you like one bar that I haven't posted, please let me know. I have probably tried it, and if not, I will go for sure.