discover and enjoy the beauty of your basque ancestry!
With this tour, we try to understand the way we are.
Do you have a family attachment to the Basque country? Were your ancestors from this unique and mystifying land? Are you fascinated by its natural beauty and warmth of its people and want to learn all there is to learn about us?
Join us on our Basque Heritage Tour! Especially created for those who left the "motherland" and are now eager to delve into their past and heritage, this tour will show you everything there is to know about the Basque culture – from the most surprising rituals, to its unique gastronomic traditions, social conventions, language and a lot more.
In small groups of a maximum of 8 persons, we will stay in a rural property which will be our base for many different excursions, including
Meeting with a local shepherd to learn more about his ancestral way of life
"Talos" (traditional Basque corn bread) making class with local miller
Traditional Basque dance class in a village
Basque rural sport exhibition
We'll even learn how to clean anchovies the old way!
What about the cities?
You will visit the highlights of our gorgeous capitals (San Sebastián and Bilbao) but the majority of your Basque Heritage Tour revolves around the rural traditions that developed away from the big cities.
No other tour offers the possibility to acquire such in-depth knowledge of this fascinating culture and share such precious moments with the Basque rural population, renowned worldwide for its warmth and hospitality!
We have designed this tour so you get some "on your own" afternoons . We believe that to become a traveleer and not a tourist, you need to minggle with locals on your own.
Join us in this unique experience and learn a lot more about yourself and your ancestral culture.
BOOK YOUR BASQUE HERITAGE TOUR NOW!
This has been a real eye opening tour. Now I understand where I come from.
It feels incredible to be part of this uncestral culture.
Eskerrik asko!!
I am so overwelmed by the beauty of the Basque country, its incredible gastronomy, the wines, but specially I feel overwelmed with  the culture and the people.
This has been a life changing tour!
Learn more ABOUT OUR "BASQue heritage" TOUR
Discover your BASQUE ancestry in a unique way
DISCOVER THE TOUR DAY BY DAY
The order in these daily activities might be altered, due to weather predictions, or if there is a special festivity in a nearby location that we think might be interesting.
All the possible changes, will be to try our best to make your staying with us, a real insider experience.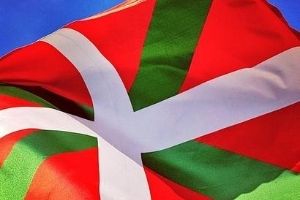 DAY 1
We will all meet at the hotel in Bilbao at an assigned time (to be set) to get to know each other and we will have our first dinner toguether!
WELCOME!!   ONGI ETORRI!!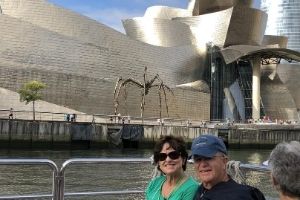 DAY 2
 Bilbao is the biggest city in the Basque country. Today we will discover the modern city and of course the amazing Guggenheim museum. Our local guide will teach as all about the building and the art inside. Lunch  and afternoon on your own to discover Guggenheim. Dinner on your own.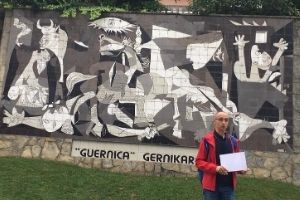 DAY 3
On our way to San Sebastian, we will stop in Gernika, where we will visit the old tree. Our ancestors used to gather under him to decide the future of the Basques. We will also see a tile replica of Picasso´s famous painting "Guernika". We will go for lunch to Guetaria, but you will need to earn your meal by cleaning some anchovies. Sounds discusting? guess what, it is fun! Check in San Sebastian. Dinner on your own.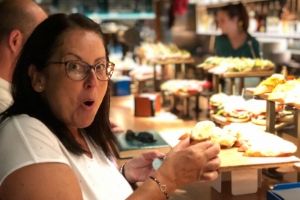 DAY 4
After breakfast we will discover San Sebastian, and learn all about the most beautiful city in the Basque country with our local guide. As we are in the TAPAS capital of the world, will do a TAPAS crawl for lunch. Afternoon on your own to discover the city.  Dinner on your own.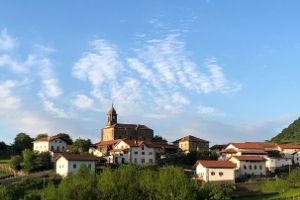 DAY 5
Today we are going to visit Baztan valley. We will visit some of the locations from the book, "The invisible guardian" by Dolores Redondo. We will learn about mythology,  witches and we will also learn how to make Talo.  Lunch together in a local restaurant.  In the afternoon we will visit Bertiz botanical garden. Dinner on your own.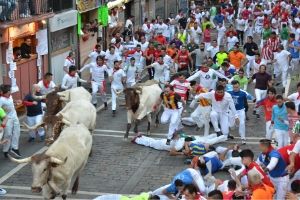 DAY 6
Today,  we will discover Pamplona, drink a coffee at Ernest Hemingway´s favorite place and learn the history and "crazy" traditions of the Capital of the old Kingdom of Navarra. After lunch. We will "have to go" to a winery and learn about Navarra wine.  Dinner on your own.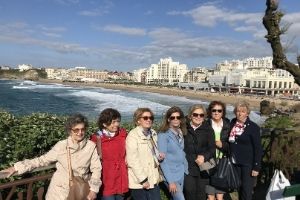 DAY 7
 We are crossing the border to get to know the French Basque Country (Iparralde). We will visit Louis XIV wedding church at Saint Jean de Luz. Latter we will visit elegant Biarritz. In the afternoon, we will meet my friend Claire. She will take us to her home and teach us about sheep herding and sheep cheese. Dinner on your own. Please remember, that although we will probably not need it, you should take your passport with you.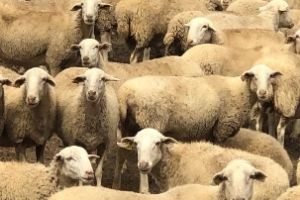 DAY 8
Today is your day,  there is absolutelly nothing programmed.  You can either take it easy and enjoy San Sebastian, or you can go to your ancestors village. As this tour is geared to reconect with your Basque heritage, we hope you have done your research and know where your family comes from.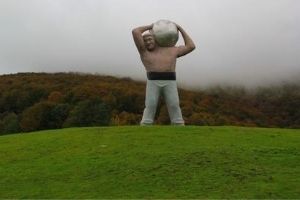 DAY 9
What is more Basque than our "rural sports"? Today we will learn all about them with one of the most important sports family. Be ready, you might have to work out a little bit…  After "so much" work, we will need to eat strong. We are having lunch at a traditional Basque grill house.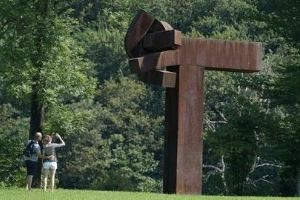 DAY 10
Our last day will be dedecated to art,  Basque art. We will visit the home of Eduardo Chillida. Probably the best Basque artist of all times. After we understand his art, and if wheather permits, we will go by boat to Pasajes for lunch. This afternoon you will have it on your own, and we wil get toguether for our farewell dinner.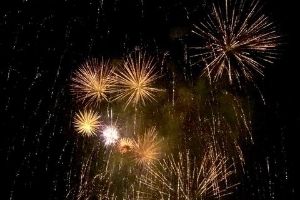 DAY 11
After Breakfast, our tour will reach the end of our route toguether for now. Who knows if our paths will ever cross again. We really hope that this tour has helped you discover and understand a little bit of our culture.
AGUR MY FRIENDS!!!
Here is what you will learn and experience on our "Basque heritage tour":
San Sebastian walking tour
Tapas crawl experience
Guggenheim museum expert guide
Anchovy cleaning class
Pamplona walking tour
Guernika walking tour
Zugarramurdi caves
Baztan valley tour
Bertiz botanical garden tour
Visit a sheperd
visit an ancient corn mill
Biarritz and Saint Jean de luz tour…and more
Plus you'll get all this, too.
A small  group of maximum 12 travellers.
Full-time services of a professional  guide and local experts.
All group transportation.
9 nights' accommodations. 2 nights Bilbao, 7 nights San sebastian
All breakfasts, 7 lunches and 2 dinners
All tips for guides, driver, mades…
Guaranteed tour price, locked in the moment you make your deposit
50% discount for 1 person when you organize a full gourp of minimum 8 PAX
Fine print: You are responsible for the cost of your drinks and free-time sightseeing.
WHAT'S NOT INCLUDED
Any transportation from/to your home to the beguinning and end of tour .
Our tour starts in Bilbao and ends in Sansebastian.
Our tours don't include airfare, so your flight arrangements and transfers are completely up to you.
Here are the things that very often we overlook but that will change your experience of the tour:
FITNESS LEVEL
This tour is perfect for all fitness levels!
The name of our company is Traveling STEPS, so as you can imagine, all our tours are physically active! 
 you'll need to happily…
Carry/roll your luggage up the stairway of the house to reach your room.
Be on your feet, walking and standing, for up to four hours, indoors and outdoors, in all weather conditions.
Sleep with no air conditioning.
After orientation and transportation lessons, be able to navigate towns and cities on your own.
Eat group dinners as late as 9 p.m. (you are in Spain….)
Be ready to walk up to 8 miles with your group.
BEST TIME TO TRAVEL
Northern Spain is gorgeous year-round although it can get quite wet in spring and fall! But what's a little rain?!
Any time between May and October is a good time to visit Beintza. However, the months of May, September, and October offer the best combination of good weather and lighter crowds at sights. September and October don't have long days, but the forest is gorgeous!
Remember to pack a coat, mornings and evenings are chilly, no matter the month of the year.
DO YOU WANT TO CUSTOMIZE YOUR OWN BASQUE HERITAGE EXPERIENCE?
Planning a trip with friends or family? Are you hikers, cyclists, runners, foodies, or a group with common interests?
We'll be thrilled to design the tour that best suits your personal tastes and preferences.
All you need to do is send us a message and we'll start customizing the perfect Basque experience for you!
GET IN TOUCH NOW
Learn more ABOUT the basque in our journal
Discover the Basque Country in a unique way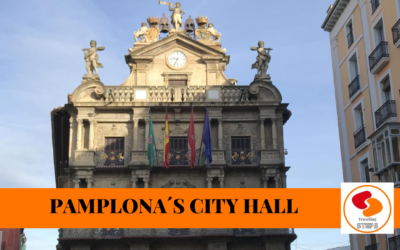 Pamplona´s town hall is the center point during the week of the running of the bulls. Everything starts here on July 6th at noon. About 12000 people gathers in the square to celebrate San Fermin. It is a moment of joy and party, unfortunatelly not too many people...
read more