The last post has brought many questions about my tours for this year, so let me go over them and let´s see if I can answer all the questions.
Let´s start with the PRIVATE TOUR.
What are these?
If you are a group of at least 6 people, I can organize a made to measure tour. As you can imagine, there was to be one of you who is the "leader". We will all discuss the itinerary, but this "leader" will be the one who says yes or no to the final program. Once we center the program, we will not change it.
As an example, let me share with you this last year's private tour.
This was a very well-traveled group of frineds. All of them have been to Europe several times and their goal was to discover the different cultures in Northern Spain.
After some deliberations, this is the tour we did.
Day 1
I wanted to start the tour discovering flamenco dancing. This part of our culture is more present in the south of Spain, but in Madrid there are a couple of great flamenco places worth discovering. I organized a private class at Tablao Carboneras with a flamenco dancer and a singer who taught us about this art form and about Spain´s gipsy community. After the class we saw (and understood) a powerful flamenco show.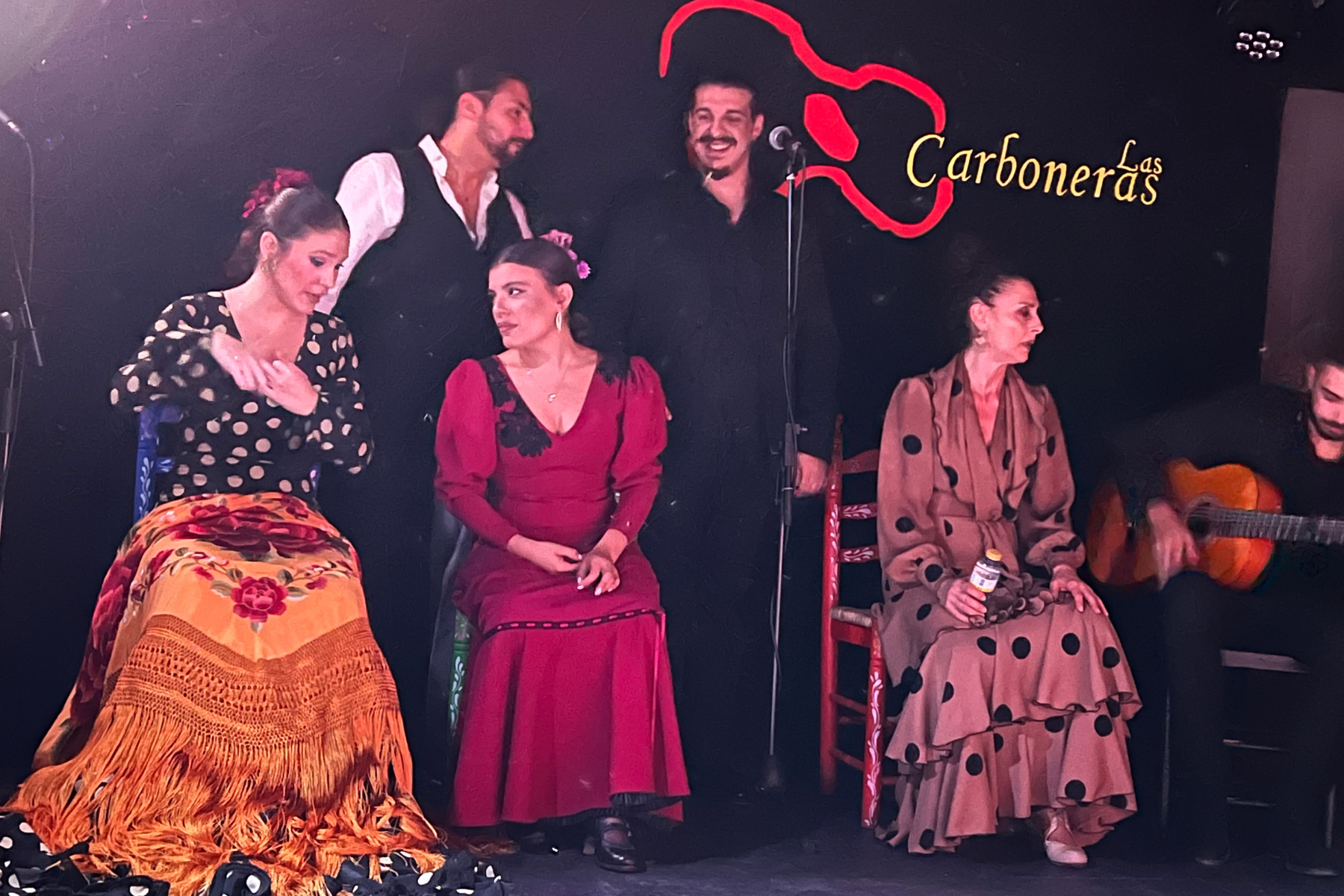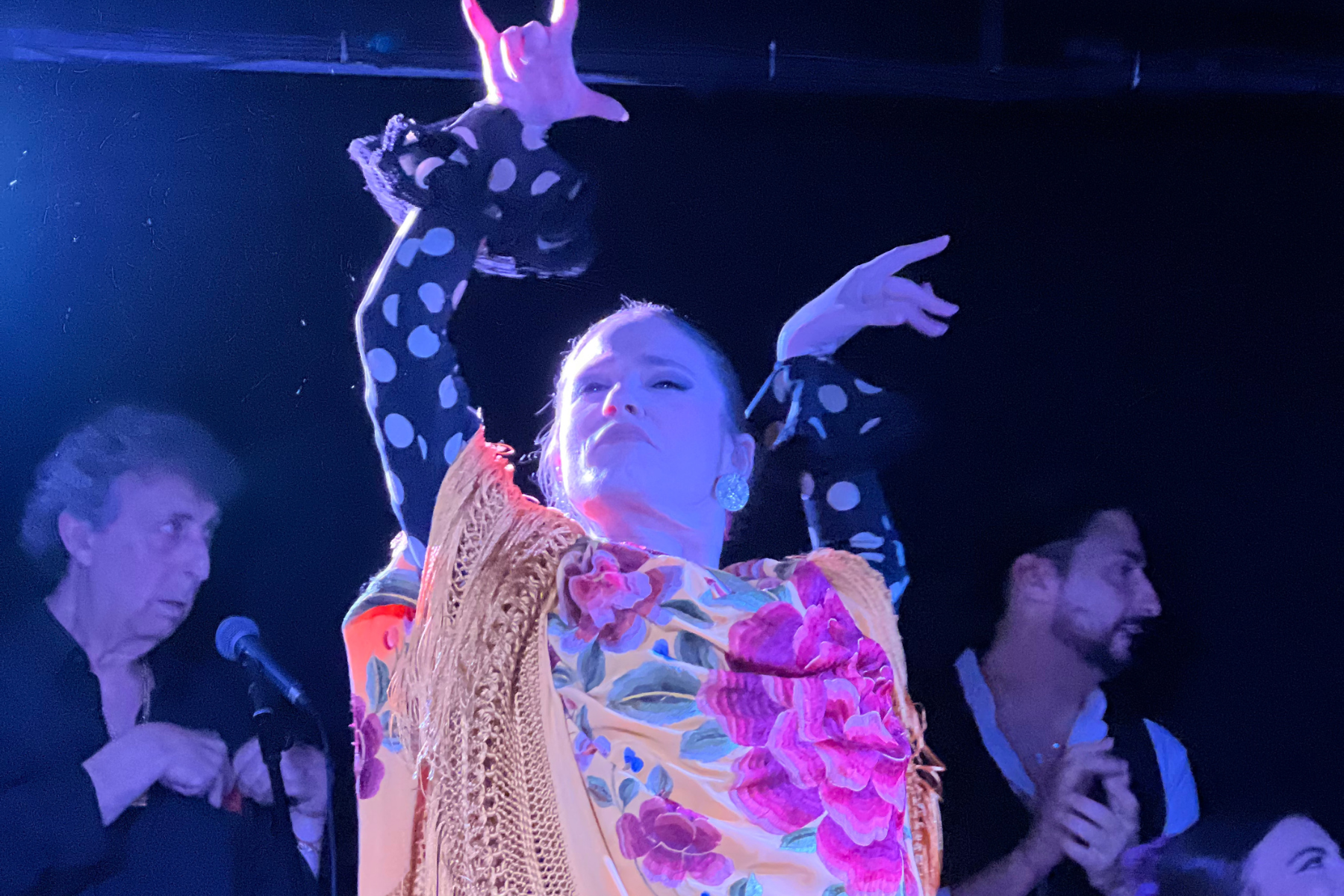 Day 2
It was time to discover Madrid´s history. We had a great local guide, his name is Federico,  who made the history of Spain come to live. We visited the Opera house and the outside of the Royal palace.
My guests wanted to learn about Sorolla (Valencia 1863) the painter of the Mediterranean light.  I organized a tour of his home/studio in Madrid (now museum).  
The afternoon was on their own. Some people went to the Prado Museum, others to the Queen Sofia, and some went shopping. 
Late afternoon I organized a sunset cocktail at one of my favorite "Terrazas". The Terrazas are rooftops that have become bars. You get the most overwhelming views over the city while drinking a Gin & Tonic. Terrazas for Madrileños is the most important socializing experience.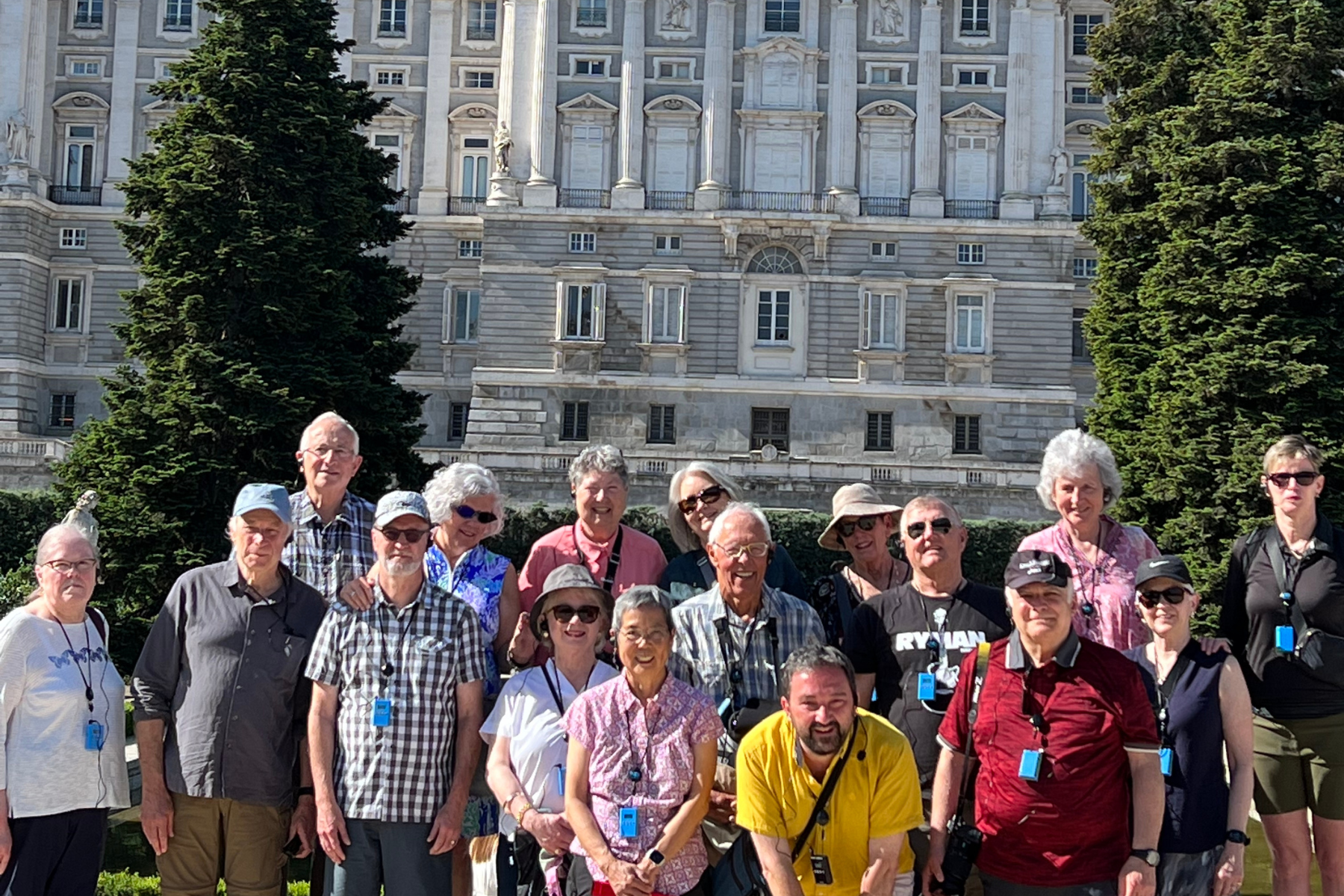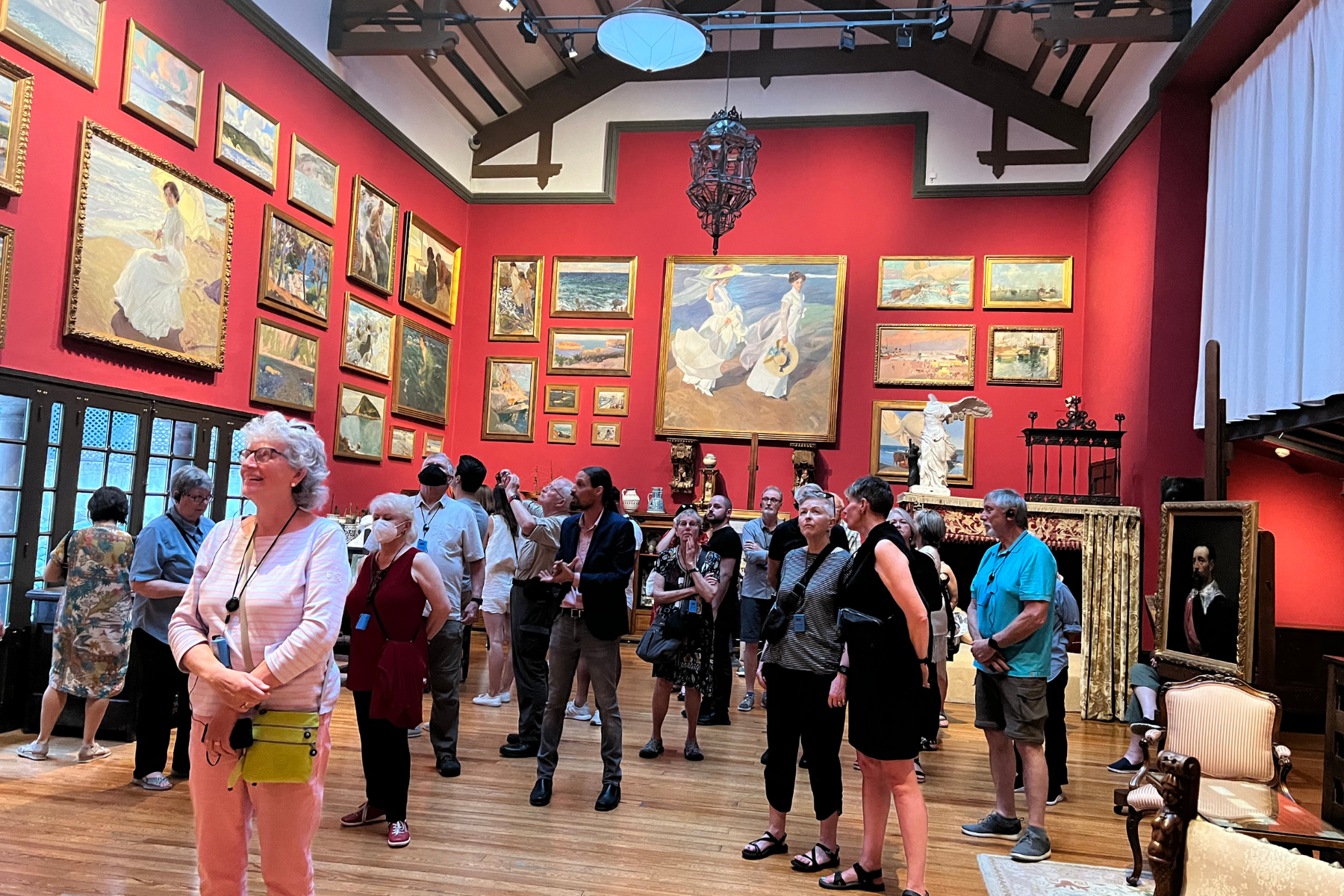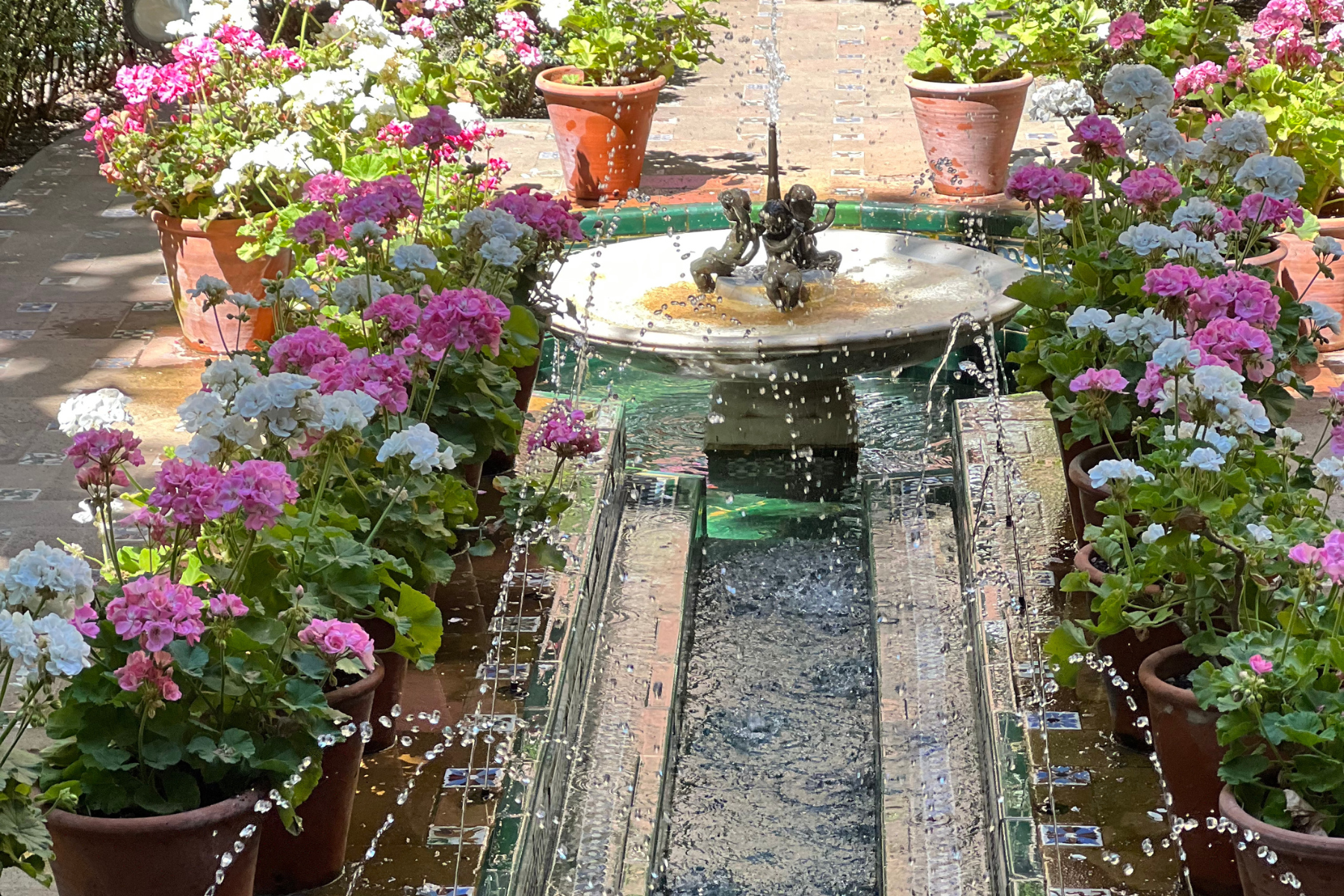 Day 3
It was time to depart from Madrid on our way to AVILA. Before we reached Avila, we visited with Letizia, our local guide, the incredible city of SEGOVIA. We had lunch at Casa Candido overlooking the Roman aqueduct. Our lunch was the traditional suckling pig that to show it´s tenderness, they cut it in front of you with a plate.
After lunch we drove to Avila, where we stayed overnight at a XVI century palace that is located at the Cathedrals square. Lucia was our guide there and she showed us the walls of the city and shared with us the life of Santa Teresa of Jesus, who was born in Avila in 1515. 
This third day was dedicated to our Roman heritage, it was also an introduction to the religious Spain.
Day 4
On our way to BURGOS we stopped at the incredible winery ABADIA RETUERTA where we learnt about wine production in Spain.
From the winery we went for lunch to a very conservative restaurant at the entrance of Burgos. I wanted to stop at this place, because it is a restaurant where people from the Spanish extreme right wing political spectrum go for lunch. It was the perfect environment to talk about the so worrying extreme right wing believes that are growing in Spain and around Europe.
After lunch we had a last minute local guide change. Our guide for Burgos tested COVID positive that morning, so Carmen covered Rosalia. We discovered the amazing Gothic Cathedral, and learnt about a National hero, El Cid Campeador.
Day 5
It was the day to leave behind Castilla and enter the BASQUE COUNTRY.
Basque culture has many different aspects, one of them is the way the community works one with each other. We call this way of working AUZOLAN. 
To learn about this way of cooperating I booked a meeting at the headquarters one of the most successful cooperatives in the world, called MONDRAGON This company was founded in the Basque Country in 1956 and provides work to over 54000 people.
After this master class, we visited HONDARRIBIA, a small fisherman village where we stayed over night in a small hotel that was a Bishop Palace in the XII century.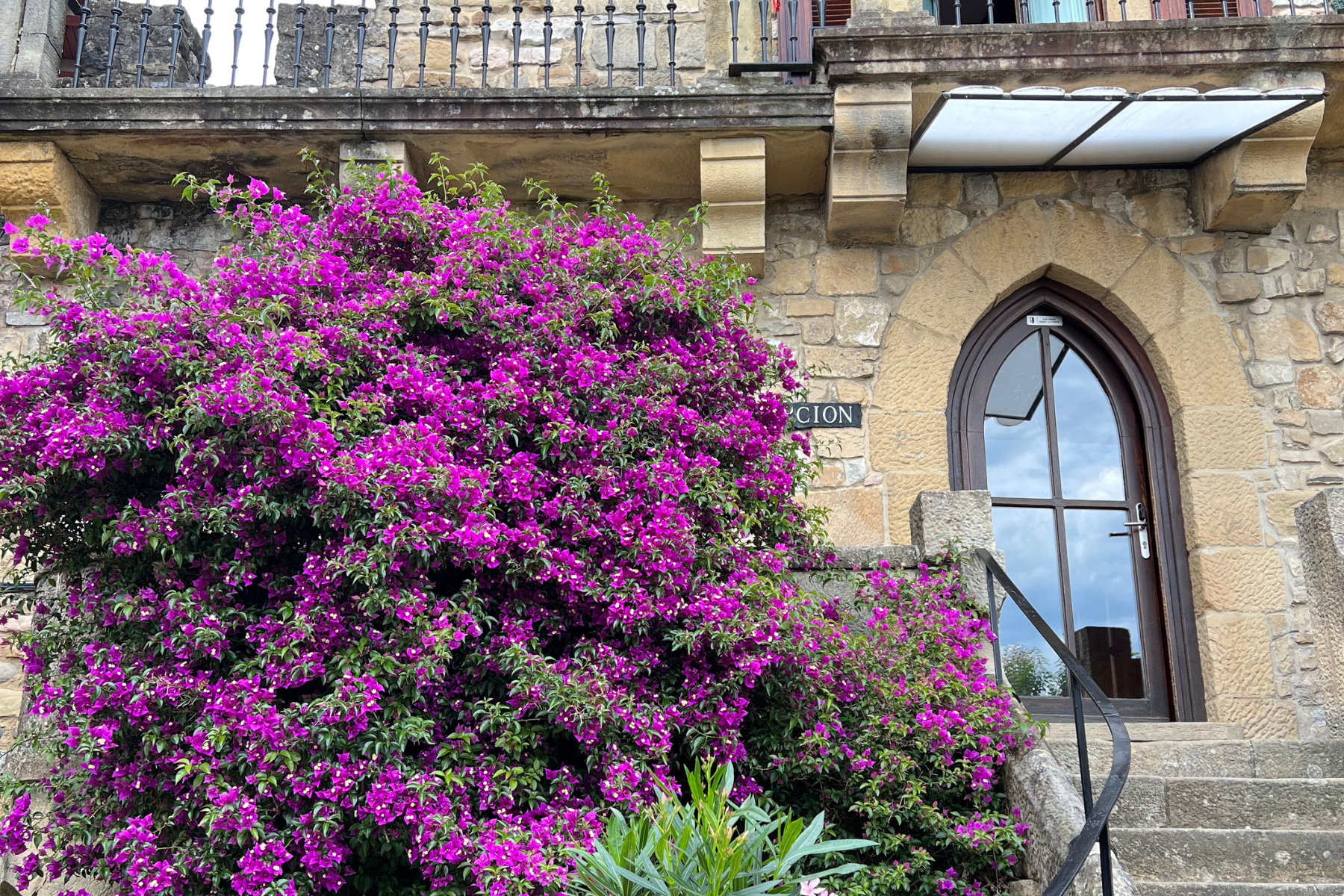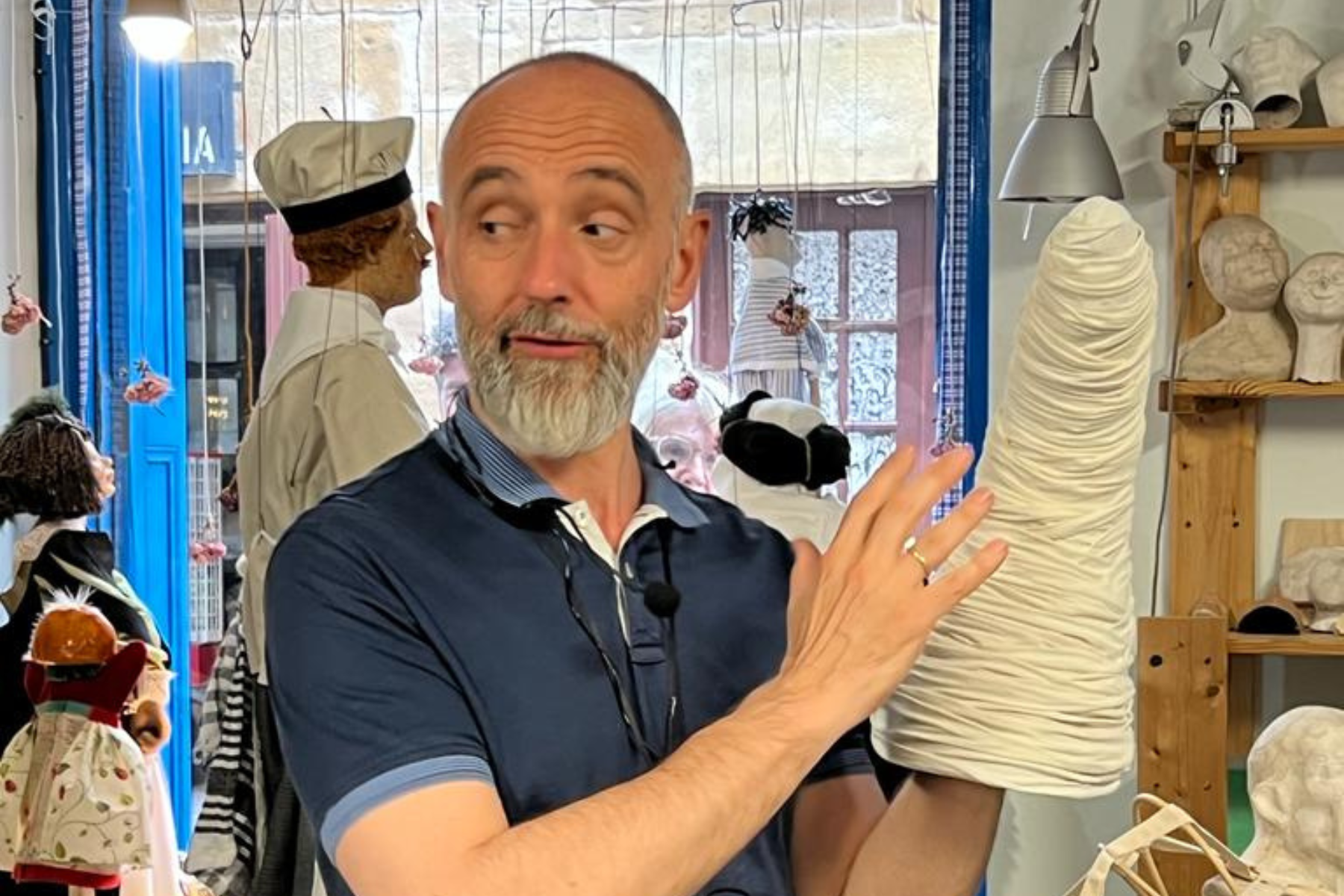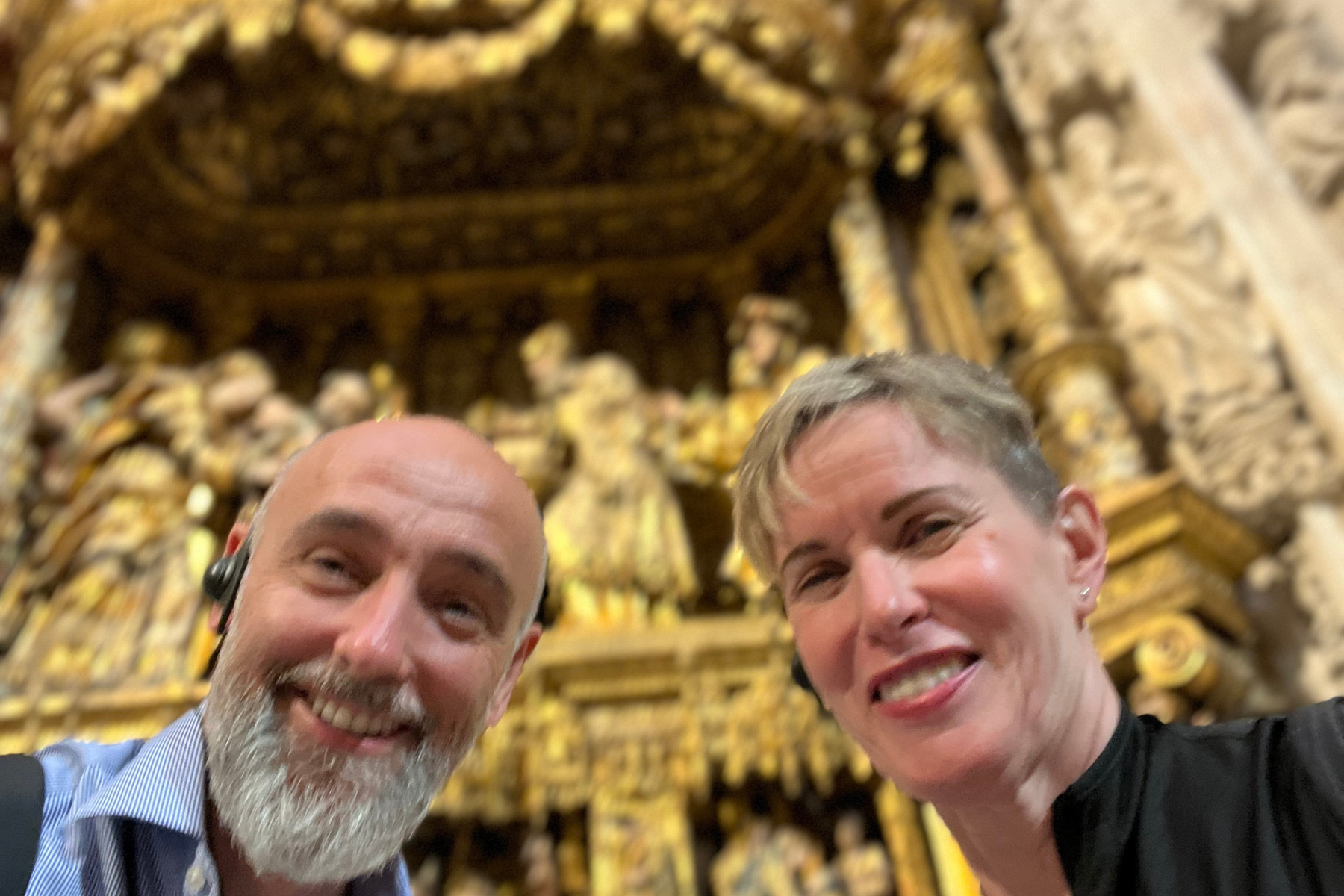 Day 6
Early in the morning, we crossed the border with France, and we visited SAINT JEAN DE LUZ. The town where Louis XIV (the Sun King) got married.  
After lunch we drove up the PYRENEES to the Baztan valley where we learnt about shepherding, and millers. We also had a rural sports show. We saw an axe cutting demonstration.
This day we got to see and feel the difference in the Spanish landscape. We left the dry flat plateau of Castilla and we arrived in the lush, fresh and green Pyrenees.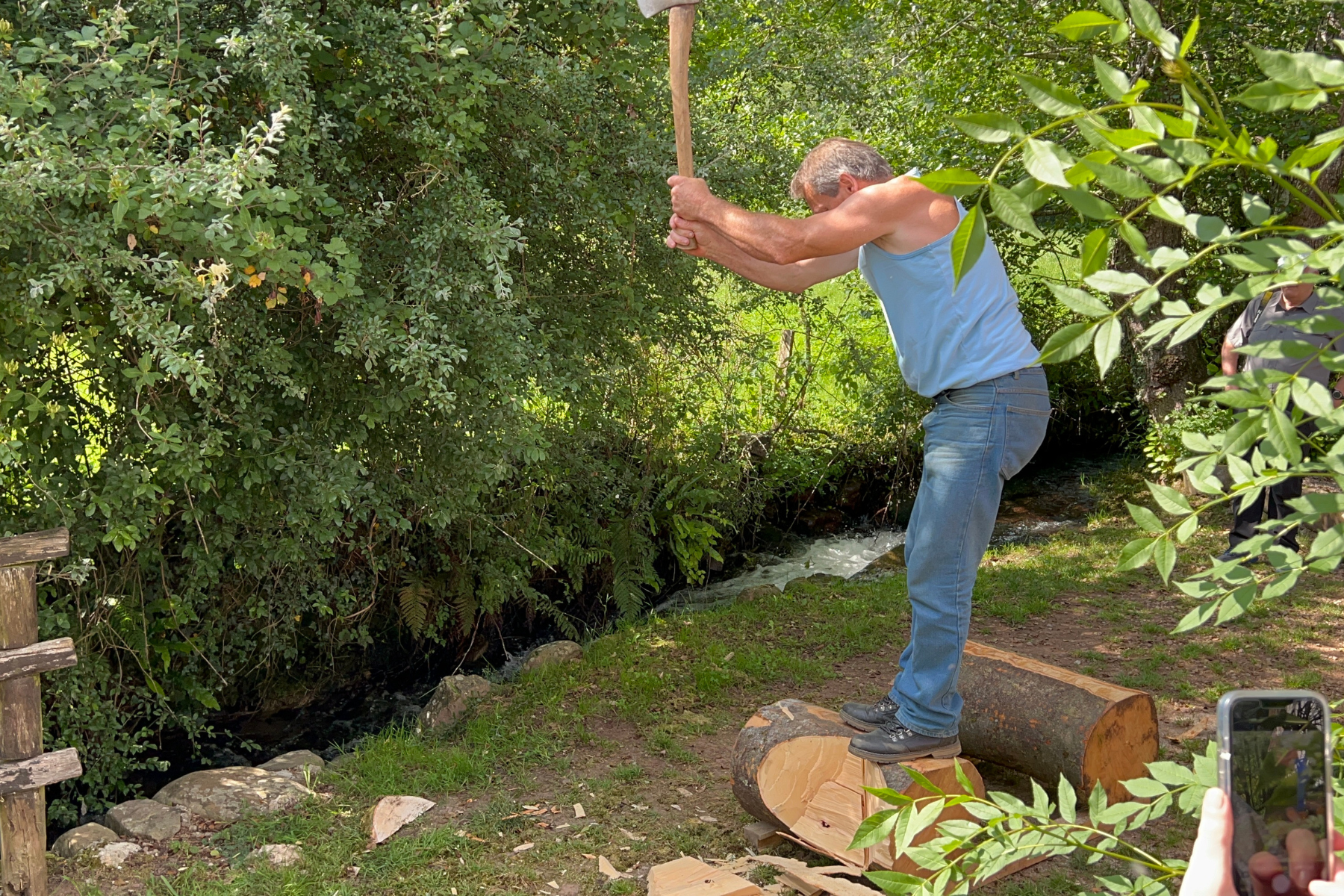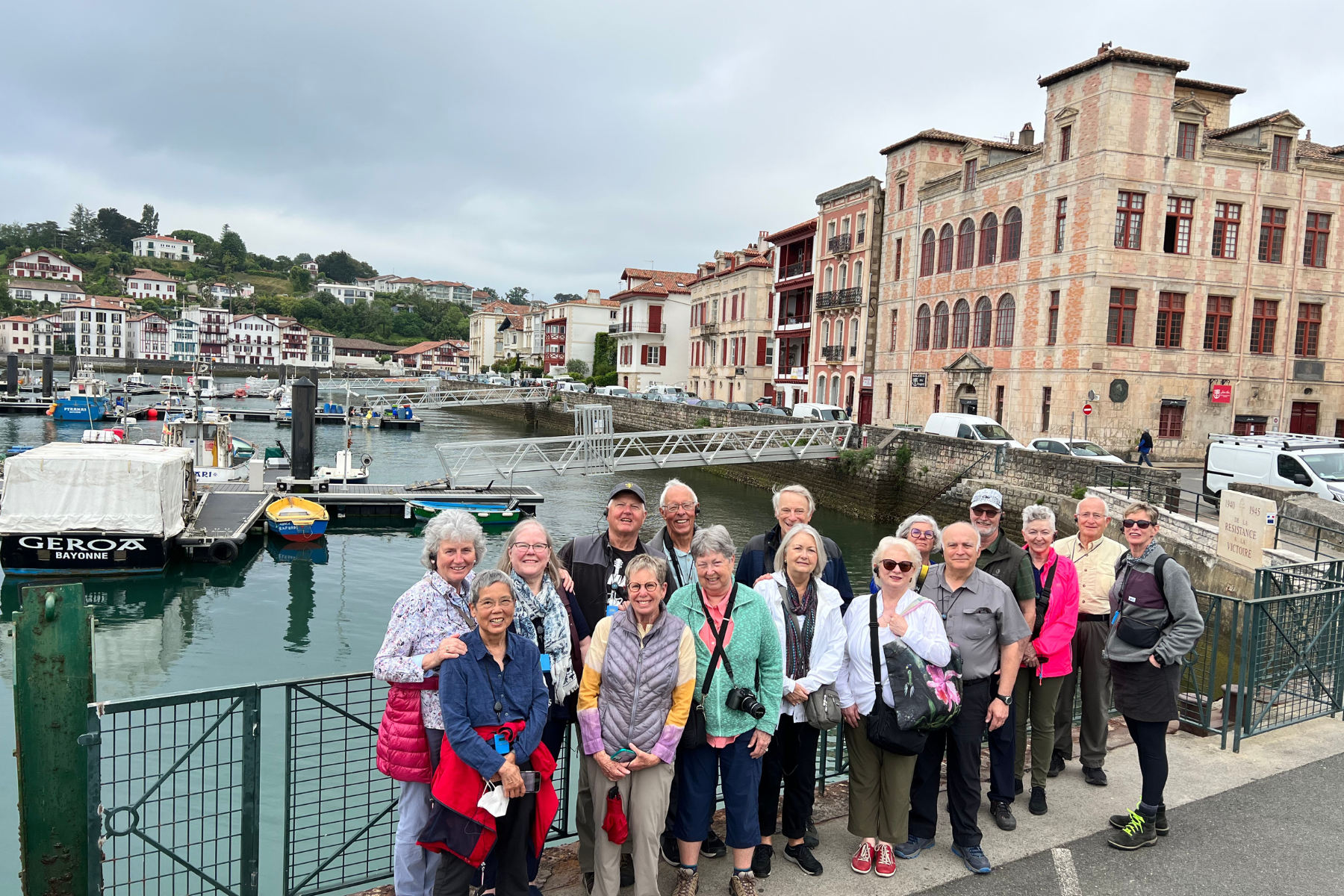 Day 7
We spent the morning learning about Navarra´s history, so we went to see some medieval villages, castles, and monasteries. It was a morning dedicated to stones.
After lunch we arrived to PAMPLONA, had a city tour led by "the best" local guide in town. I was the guide🤣🤣. We talked about running of the bulls, about our history, and we visited the Cathedral.
We got together for dinner in what we call in the Basque Country "Sociedad Gastronómica" or men's club. It is a place where you cook for your friends in a very relaxed ambiance.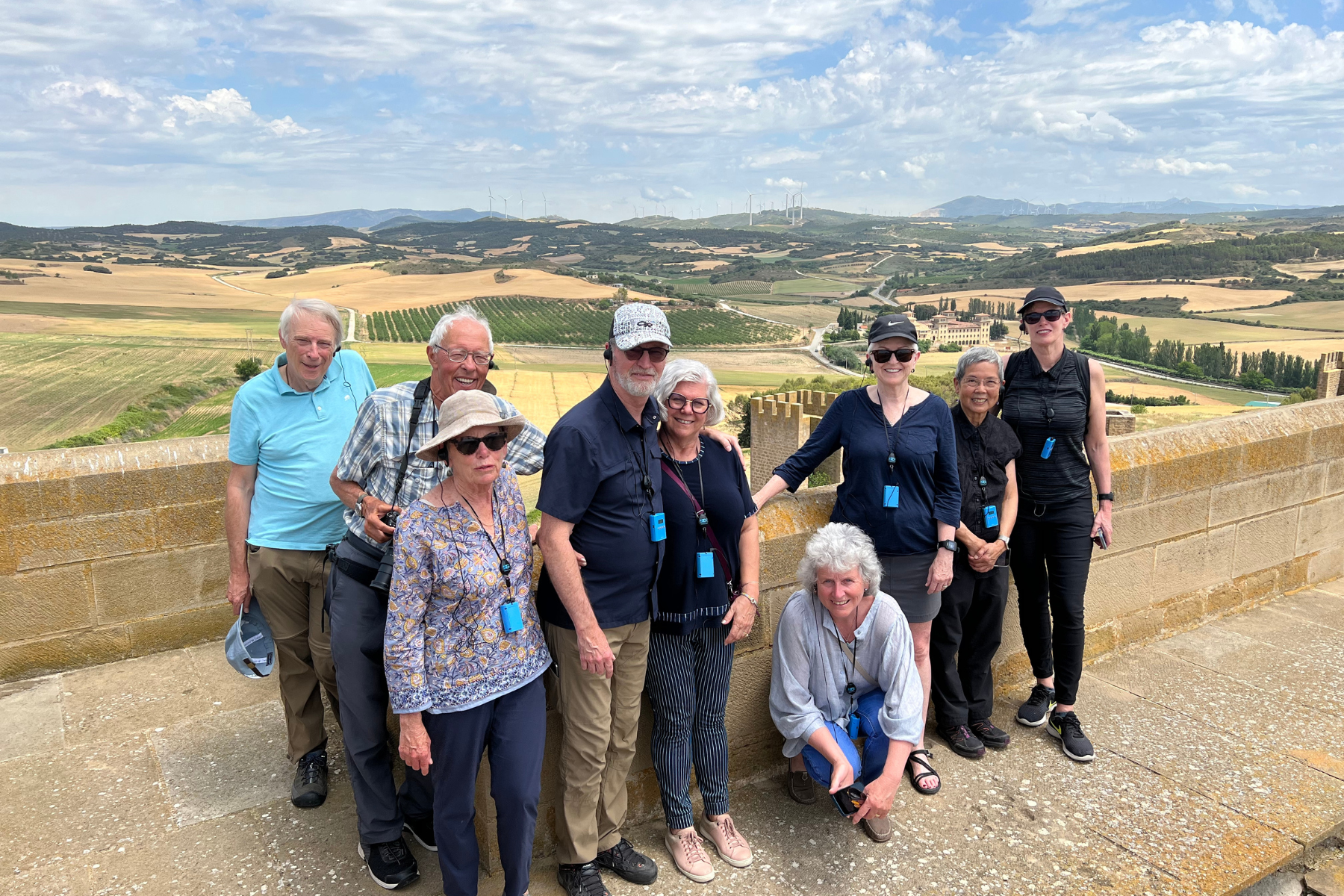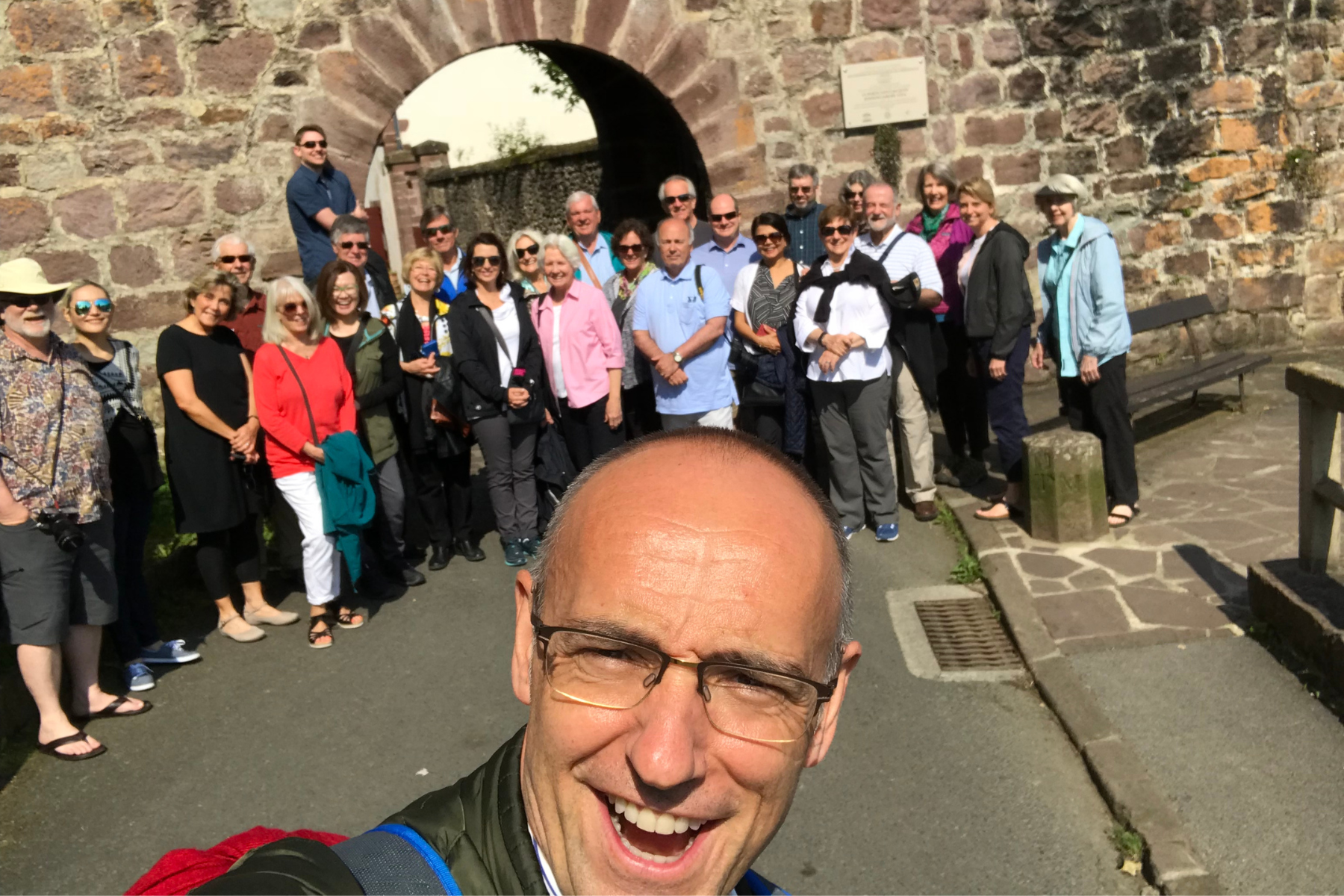 Day 8
My guests wanted to walk part of the Camino to Santiago, so we organized a three-hour hike in the Camino.
It was a beautiful day. The hike was divided in three parts, each one of them about 2.5 miles.  Just in case someone didn´t feel ok and wanted to not walk the complete hike we had a bus following us, so you could hop on when needed. It worked perfectly and almost everyone walked the three parts. 
It was emotional, silent, heartwarming and sometimes a bit challenging. But for sure it was worth it!
We had lunch in the Camino, and right after our meal, we returned to Pamplona to either take a nap or to go shopping. The afternoon was free time.
We had a fantastic farewell dinner at restaurant Europa, one of the Michelin star restaurants we have in town.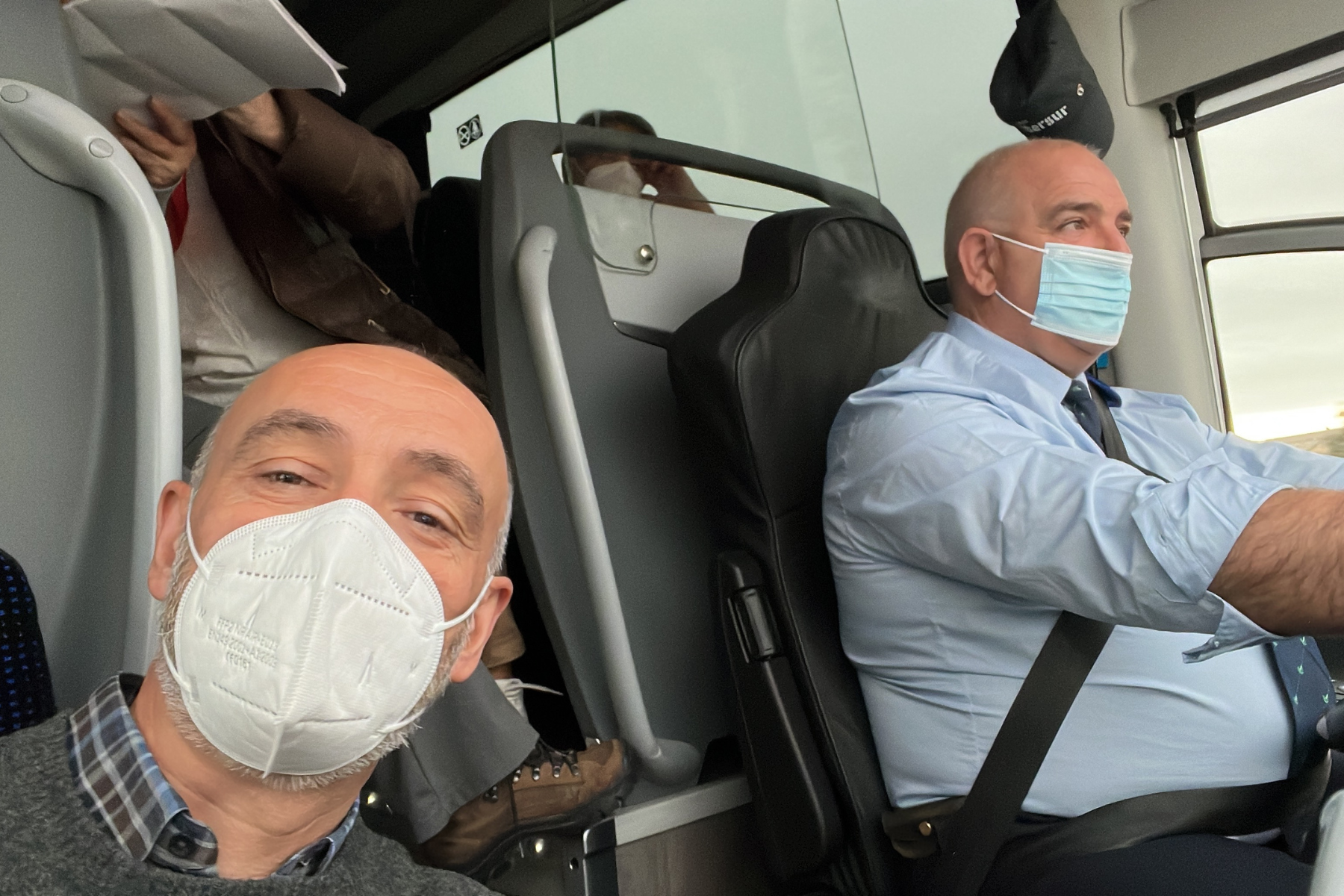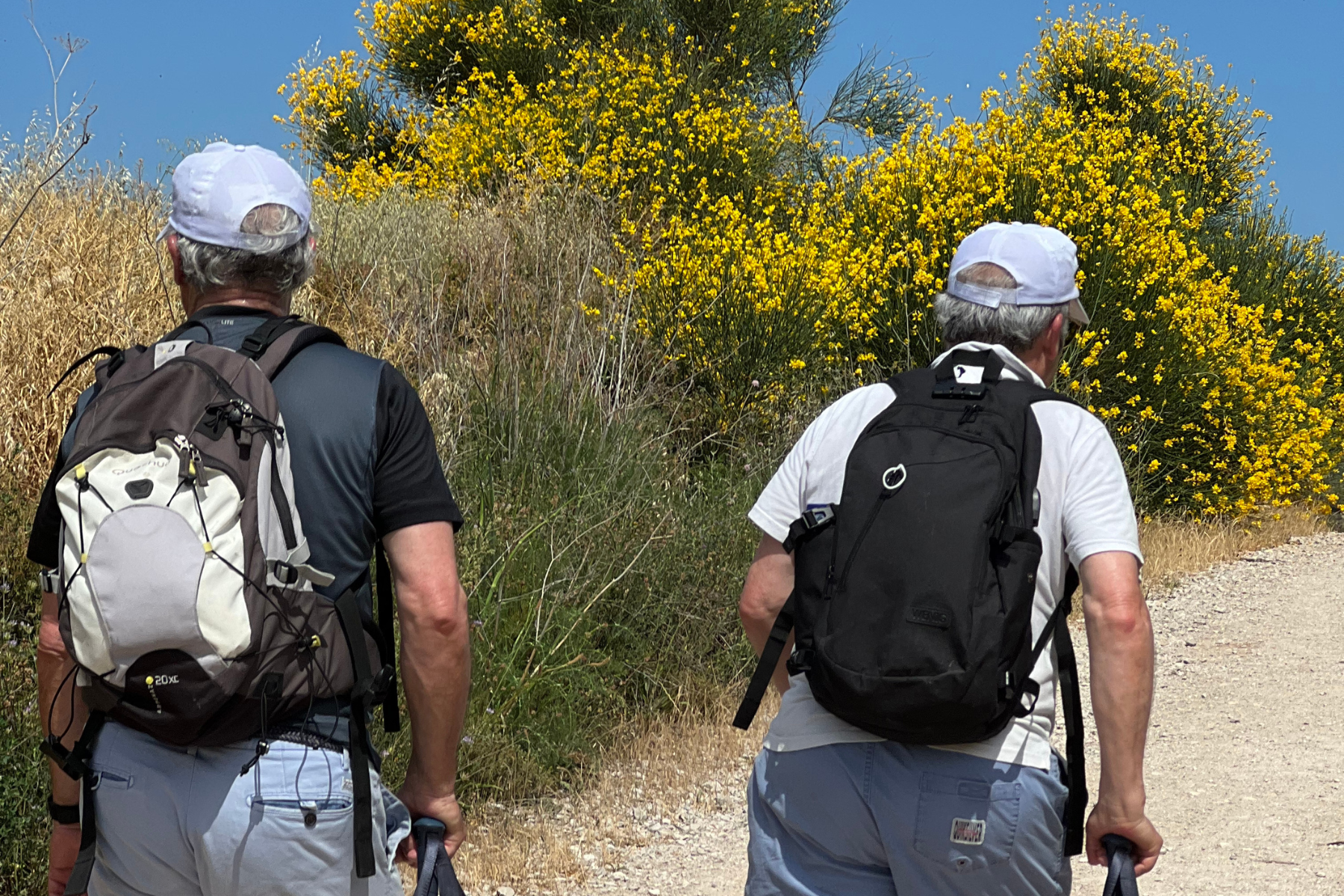 Day 9
After breakfast I organized taxis to go to the train station, other taxis to go to Pamplona´s airport and another one to go to the bus Station. The tour had finished.
In this PRIVATE TOURS, I always try to book city center hotels, that has some historical importance. Most of them are 4-star hotels. All breakfasts are included at the hotel.
As food is such an important part of Spanish Culture all our lunches are included.  We always book restaurants that offer local cuisine in the highest quality. Wine is included in all our meals. Some dinners are included as well. Trust me, you will not be hangry on these tours. It is not always easy to accommodate everybody's food elections, especially when we visit small villages, but we try our best.
We work with top of the notch bus companies. We book large buses where you will have at least 2 seats per person.
So, if you have a group of friends who want to discover any part of SPAIN, please get in touch with me and let`s talk about it.