What is the Camino de Santiago?
Where does it start?
Who was Santiago?
What is the motivation to pilgrimage for over 600 miles? ….
 So many questions!
 I am going to tell what I have learned about it. I have walked it twice, and as soon as I can, I will go there again.
 The Camino de Santiago is above all, a personal experience. No matter if you walk with your friends or with your partner, the rhythms of walking are different and there will be many miles where you bounce along with your thoughts. The Camino will change you for life. Do it for whatever motivations moves you, religious, spiritual, tourist, sports … no matter. You will start it one way, and you will end it as a different person. I think, that in the end you become a better person, because in the course of the days you will certainly learn many things about yourself and about life in general.
If you are looking to experience the real Camino in person but you are hesitant to walk the full 500 miles, you can join our Camino de Santiago tour.You will have the chance to walk the most beautiful parts of the trail. You will also learn about the history, the art, the spirituality on the Camino, and you will enjoy the amazing food and wine of northern Spain.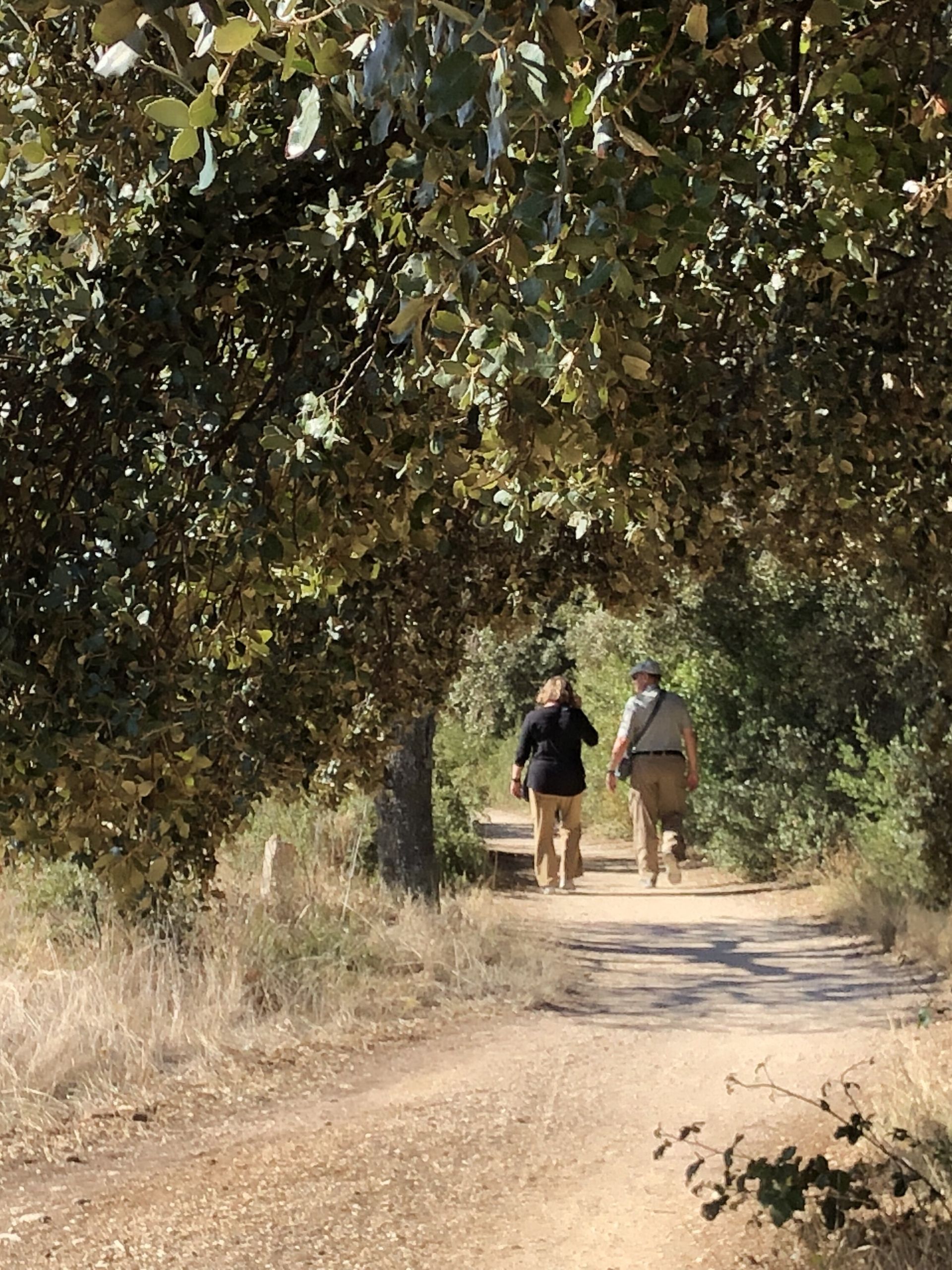 Santiago (James the old one. There are two James in the Bible, the old one and the young one) was one of Jesus Christ´s Apostles. James, back in the early first century, was in charge of traveling all the way to Hispania to spread the teachings that Jesus preached. When Santiago arrived in these lands, he found some people who were not "especially" receptive. He was so discouraged that he even thought of returning back to Jerusalem with the greatest feeling of failure. It was then that the Holly Mary appeared to him on top of a pillar. She gave him encouragement and strength to continue. This pillar today is preserved at the Cathedral in Zaragoza. By the way it is called the Cathedral of El Pilar.
He finished his journey in Galicia, the "northernmost" and "westernmost" province in Europe. Once his desire for Christianization was fulfilled, he returned back to Palestine. Before long, in 44AD, he was beheaded by order of Herod Agrippa, in Jaffa. His disciples collected the body, and following the emperor's prohibition not to bury him in Palestine, so it would not become a holy place to be worshiped, they put the body (and the head) in a stone sarcophagus, place it on a boat and pushed it into the sea.
Now I must make a small parenthesis in the story, in order to clarify, that in the Camino de Santiago you will find hundreds of legends and precious stories that must be looked at from the heart (faith), because if we look at them from the head (reason) we will lose a lot of what the Camino is willing to give to us.  
Back to the story. We were in Palestine with Santiago on the boat and his disciples pushing it into the sea. How did that boat get back to Santiago de Compostela? Which is where his body is buried and where he is currently being venerated.  Well, very "easy".  Here comes one of those legends I was talking about.  Four magnificent angels, sent from heaven, guided the boat through the Mediterranean Sea. They sailed by Sicily and Ibiza, made the boat cross the Strait of Gibraltar and go all the way north the Atlantic Ocean coast (Portugal) until they reached the Galicia. It seems that they were taking the cuffing on an ox cart. Suddenly, the oxen refused to continue his walk. This was considered as the heavenly signal to bury Santiago at that exact location.
Years passed, centuries passed, and this holy location, was totally forgotten. It was the year 813 (in the times of King Alfonso II el Casto) when a hermit, who lived near the forest where the oxen had stopped, saw every single night thousands of stars floating over that empty field. The hermit interpreted that something extraordinary was happening there. He communicated the news to Bishop Teodomiro, who in turn contacted King Alfonso. With great expectation they began excavations. And with great joy, they discovered the uncorrupted body of Santiago.
The city where Santiago is currently buried (Santiago de Compostela) takes its name from the Latin words "campus estellae" (field of stars) From that moment on, the tomb of Santiago became the most important Christian pilgrimage, or at least as important as Rome or Jerusalem.
But where does the Camino de Santiago start?
If it comes from all over Europe, there shouldn´t be just one starting point…. In fact, it can be said where it begins. It starts on the doorway of your home. For each one, the Path begins at the place where your journey begins. If you are from Washington, it starts in Washington. If you are from Amsterdam, your journey will start in Amsterdam….
I always explain that the Camino de Santiago looks like a tree with millions of tiny branches. Those weak twigs, gathered through Europe. Once in France, they become four large branches, or roads, that collect the flow of people who come from all over the world. Three of them come together in a very small village called Ostabat very close to Saint Jean de Pied de Port, the last French town before crossing the Pyrenees through the Roncesvalles pass.  The fourth route is that of Arles, which will cross the Pyrenees through Somport. These two branches, routes, meet at Puente la Reina, in Navarra. From Puente la Reina, the Camino becomes one strong trunk, and is called El Camino Francés.  
The four French routes have beautiful old names, I will give you those of the current cities where they pass in case you dare to do it from there. The Arles route, the Puy en Velay route, the Vezelay route, and the Tours route.
But if you are new pilgrim, where should you start? To most of us, the Camino starts in Saint Jean de Pie Port (SJPP). The best way to reach SJPP is by flying to Madrid in Spain, then get a train to Pamplona. Once in Pamplona there are daily buses to SJPP, or if you meet 3 other pilgrims, you could share a taxi. It will cost each one of you about 25€.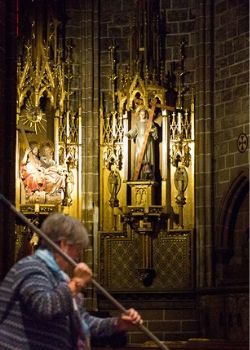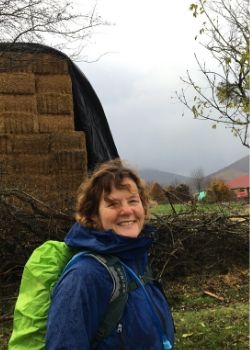 We have recently established the European Union, but in the Middle Ages there was already a special relationship between the European inhabitants, and it was precisely the Camino de Santiago that brought them all together. There was a pass that proved that you were a pilgrim on the way to Santiago, it was called "La credencial". This passport, would allow pilgrims to move freely, and even cross territories without paying taxes.
Today's modern pilgrims also carry one. It is a humble folded cardboard passport, where you collect the stamps of the places where you are going through. It is very treasured memory because it shows that on such a day, at such hour you were at that point on the Camino. But also, as in the middle ages, where the passport would give you some privileges, the modern one also gives you "a lot" of privileges. If you are a pilgrim, you can eat, sleep, even get a massage for a reduced price…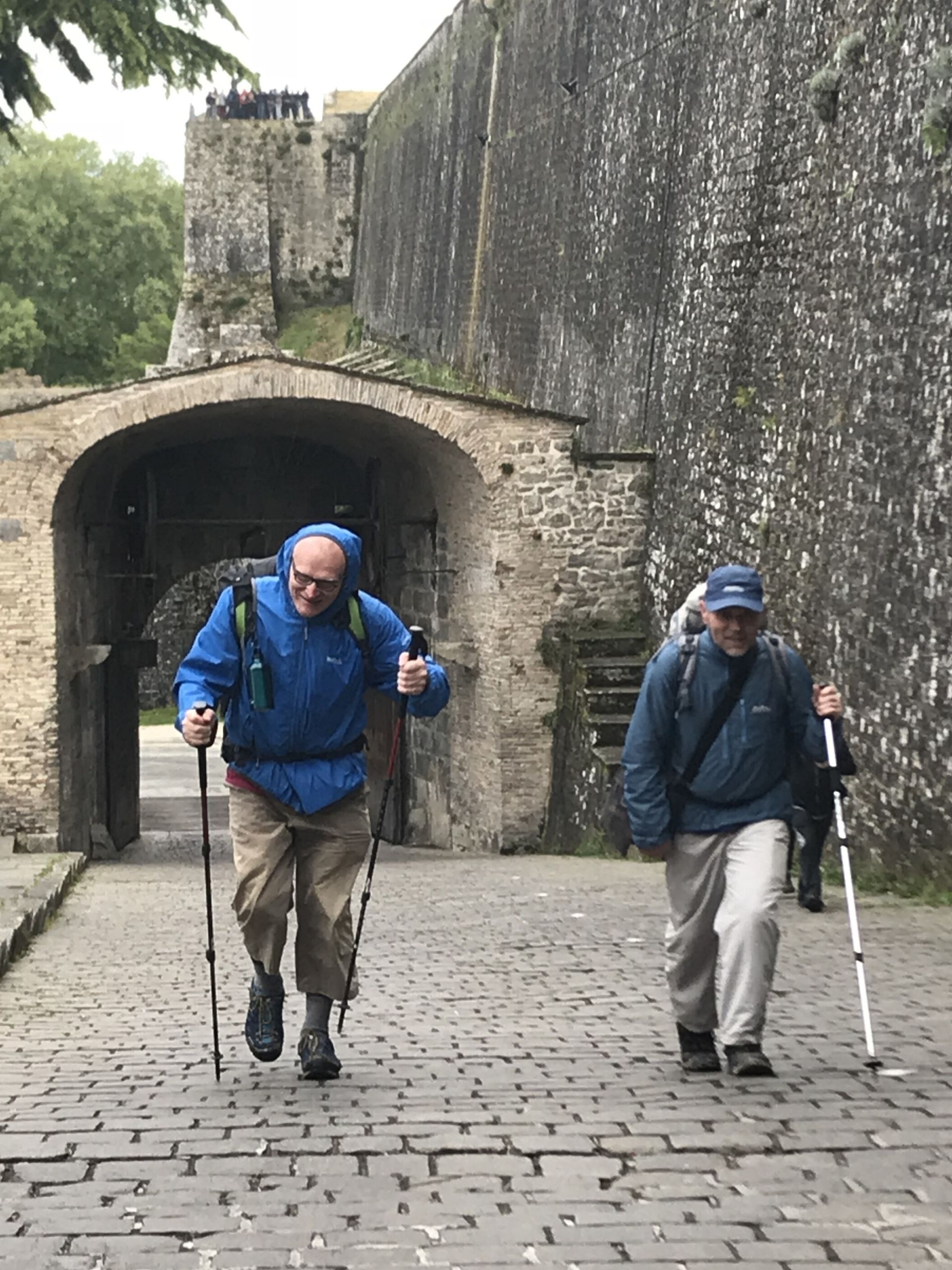 Many times, we are asked, where can I sleep in the Camino?
Options are huge! There are all kinds of accommodation along the way.  I personally recommend you to stay it in the hostels (albergue de peregrinos) run by friends of the Camino de Santiago. They are people who altruistically dedicate part of their free time to welcoming and helping in everything necessary those of us who are walking. They have already walked the Camino before you (some of these volunteers many times) and they know with a glance what each one needs.
These are places where there are no luxuries but they do have everything you will need. A room to wash clothes, a computer to look in Internet, a small kitchen to heat something quick, a fridge with cool water, some clean showers with hot water and some rooms with bunk beds that will allow you a good rest. Or at least a rest shared with other people who, like you, are making their own way. Sleeping and sharing experiences in a room with other people you don't know a thing about, is a curious experience. If you are stuck with somebody by your bed who snores like a diesel engine, don´t worry, you will be so tired that you will probably sleep like a baby.
These albergues, only welcome pilgrims (that is where your pilgrim passport, comes handy), and they are super cheap. The price is merely testimonial, just enough to pay the general expenses, no profit is made from them. Maybe, somedays you will want/need to give yourself a treat and go to sleep to a fancy hotel. Why not in a Parador Nacional? They are historical buildings transformed into breathtaking hotels. Can you imagine staying in a XV century palace where the Catholic Kings slept?
To walk this journey, it is not necessary to carry many things, although some are essential: good footwear, a raincoat, comfortable clothes, a hat, sun cream, water, and although it may seem silly, cotton underwear. I have a friend who is a doctor, and has written some articles talking about the physical problems of chafing, tendinitis, blisters, etc.…  that can happen on The Camino. He says that the most important thing for a pilgrim, is to wear good cotton underwear.
Well exactly like in the middle ages, almost EVERYBODY!
Most, in those remote times, did it for religious reasons since the fact of coming to venerate and prostrate themselves before the tomb of the Saint granted plenary indulgence for seven years. Those poor people who had nothing, at least assured themselves of eternal salvation.
 Kings, nobles and the high lineage from all around Europe, also made a pilgrimage to Santiago. In fact, it was quite fashionable in the high-end society. Although they "walked" it in a much more comfortable way than the average pilgrims, since they traveled in their luxurious wagons, escorted by their servants.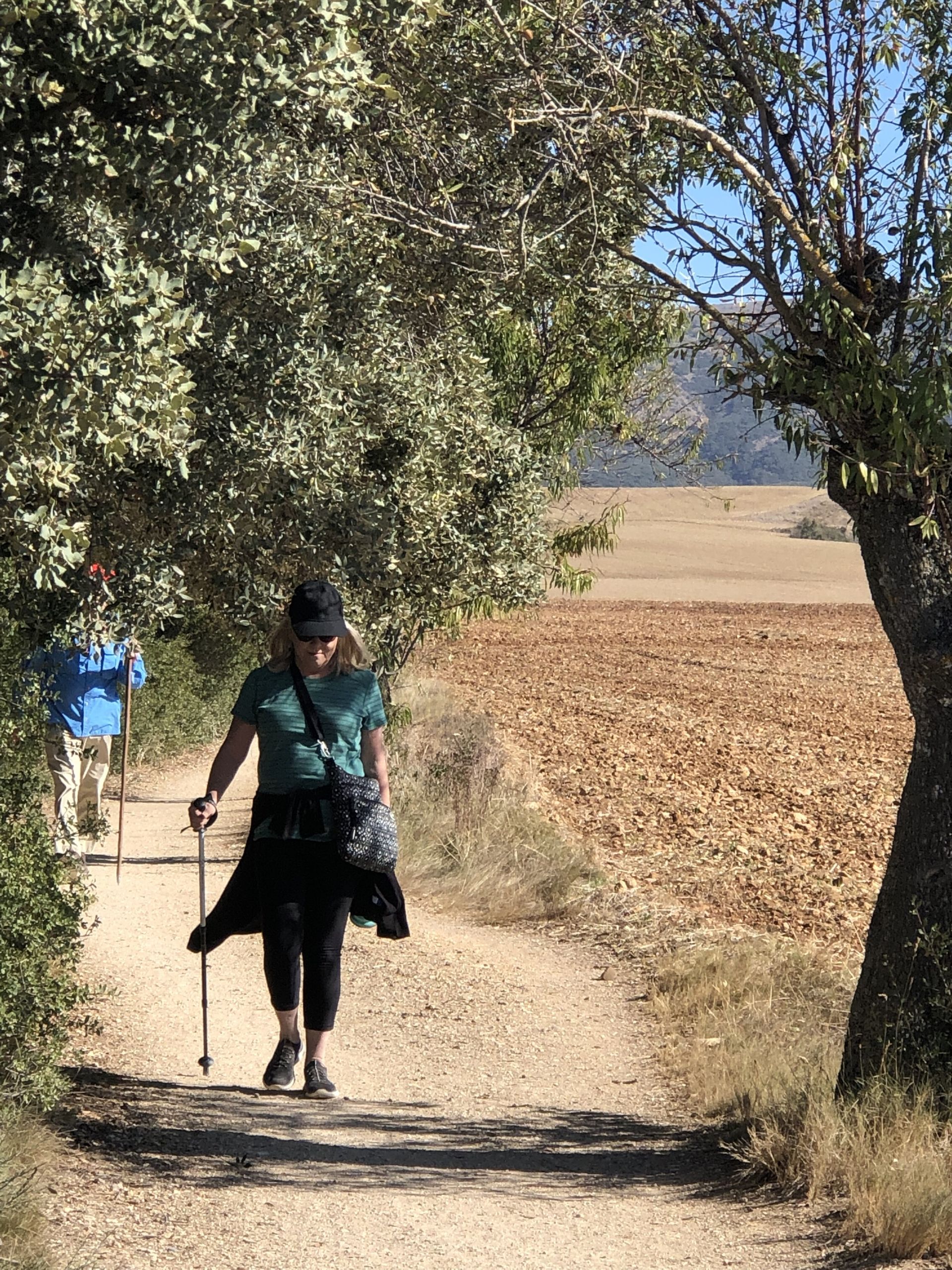 Many sick people were also on their way, awaiting healing when they came to kiss the apostle's feet. As you can imagine on their way, their illness was getting worse, and many died despite the number of hospitals that were constructed along the way to attend pilgrims. Many times, before dying, they would donate their possessions to those hospitals, some of which, came to possess great wealth.  
Troubadours, buskers, tooth pickers, barbers, prostitutes, adventurers, merchants, peasants, religious, students of other languages, … and all kinds of unimaginable people moved along this new path that led to Compostela.
With so many people moving along the same roads, it was not surprising that thieves, troublemakers and usurers also appeared to hustle the well-intentioned pilgrims. Stealing, robbing, deceiving the suffering pilgrims, and even on many occasions killing them
To protect the Camino, military religious congregations appeared. Perhaps the most famous one was The Templers. Warrior monks dedicated to protecting and caring for the Camino de Santiago and who made their Crusades here, rather than in Jerusalem. Ponferrada´s castle is the most spectacular Templar castle in Spain.
On my first pilgrimage, I shared a couple of days walking and talking with a German historian. He shared with me that back in the days, in some towns in Europe, when blood crimes such as parricides or infanticides were committed, the way to serve their sentence was by walking the Camino de Santiago. When these criminals would return to their cities, they were respected and totally reformed people. On my second Camino I met a group of young Dutch criminals who with their monitors were doing exactly the same as in middle ages. Remembering what the German guy told me, It seemed to me a great idea because surely the experiences lived during so many miles enduring the cold, the snow, the wind or the sun, will have made them consider many things that before they could not even imagine.
And who are you? What do you expect to find on the Camino? What is your motivation?
 Do not worry, whenever you are ready, start walking and you will see how all those questions are answered by yourself at the same time that you find within yourself a peace and joy previously unknown.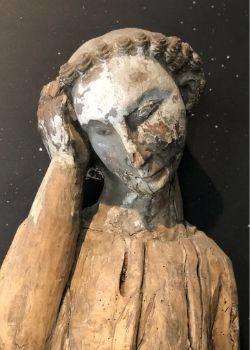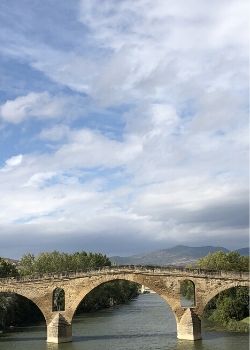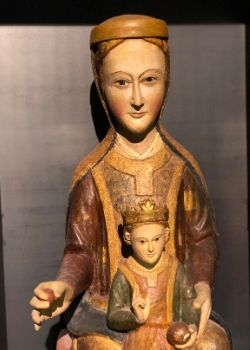 PS:  Formerly greeted with ULTREIA! That means "keep going". Pilgrims would reply "Et suseia Santiago!" "Beyond Santiago"
If you are interested about the Camino, join us in one of our Camino tours. Don´t panic, we will not walk all the way. For sure we will visit the highlights, walk small parts of it, etc.…but also, we will eat, drink and share memories that will last forever. Remember that the best thing is to travel like an insider.