At the highest point in Pamplona (Spain), we find the magnificent city Cathedral, an amazing temple from the 15th Century, consecrated in honor of the Holy Mary. Her name is Santa María la Real (The Royal Holy Mary)
The façade is probably not the most impressive part of the Cathedral, in fact, it is not even from the fourteen-hundreds, but dates from just the seventeen-hundreds. The old façade collapsed and we reconstructed it in neoclassical style, which is much more austere and minimalistic. Inside the tower on your left, you will see Spain's largest bell in a cathedral (it weighs about twelve tons). The name of the bell is Maria. On the right tower you will find a sun-dial that doesn't work. If you look at the time it is 2 hours behind the real time but even if it had given the right hour, you could not have relied on it. Pamplona is one of the cities in Spain with a lot of rainy days. A sun-dial, without sun, doesn´t work…
The Queen of the Cathedral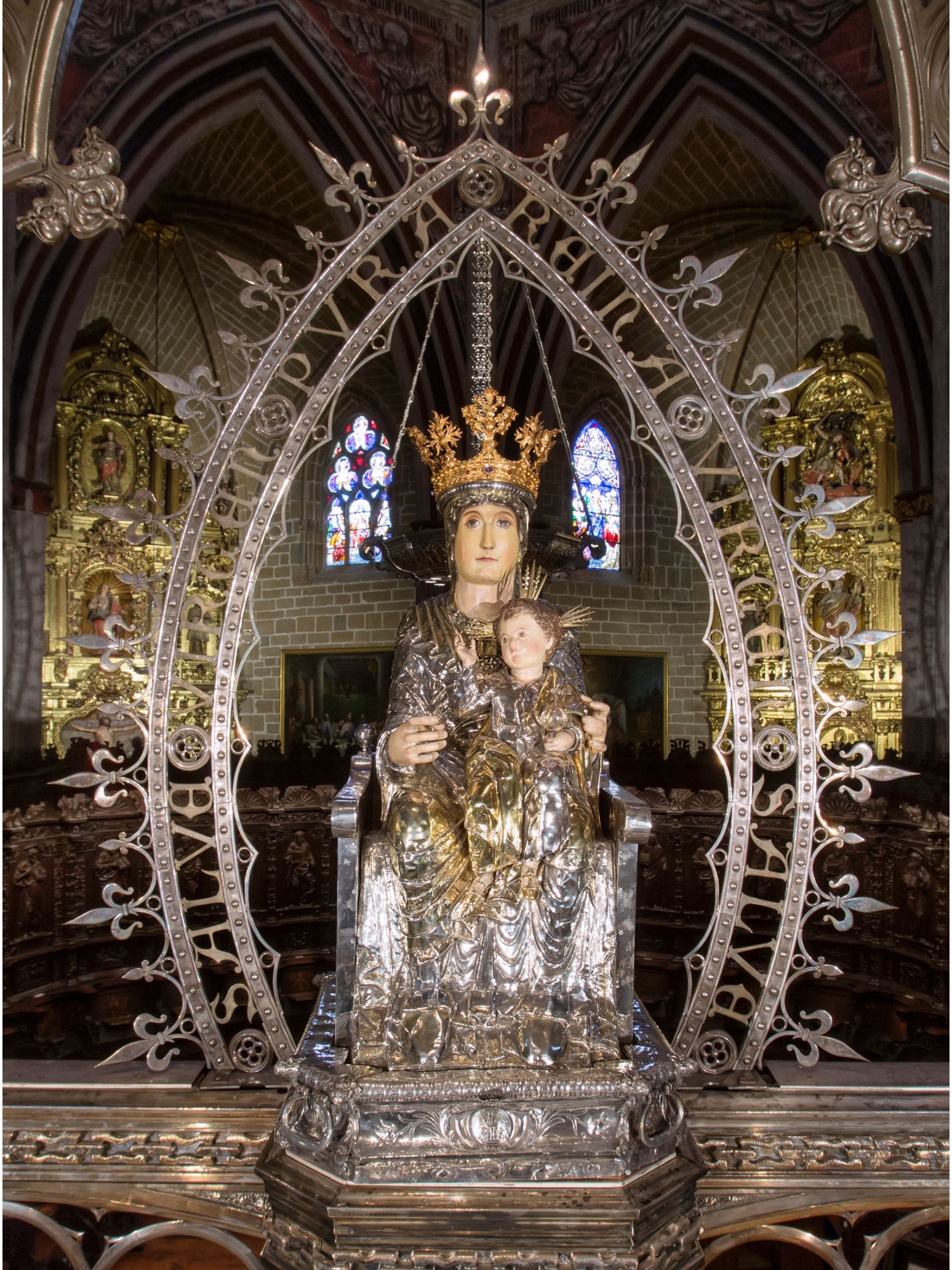 Gothic cathedrals were built with the purpose of trying to reach God and let the light of God embody your soul.  Well, once you come into this temple, you will find a very elegant and slender cathedral illuminated by the sunlight coming through the stained-glass windows. It is almost mystical.
The most important image is at the main altar on top of a very thin silver pillar. She is the Royal Holy Mary, the oldest image of our Lady in Navarre, almost 1000 years old. It is a wooden reliquary covered with silver. She changes her clothes according to liturgy and she has such an extensive wardrobe that even Kim Kardashian would die of envy. For example, at Easter, when her son died, she wears her humblest gown and takes her crown off, there is nothing to celebrate. On the other hand, during the festival of San Fermín (the running of the bulls) she wears her red and gold gown, and wears her most spectacular golden crown, as a tribute to the Saint.
Pilgrims of the Camino de Santiago have a Special love for her.
The Cathedral has some important guests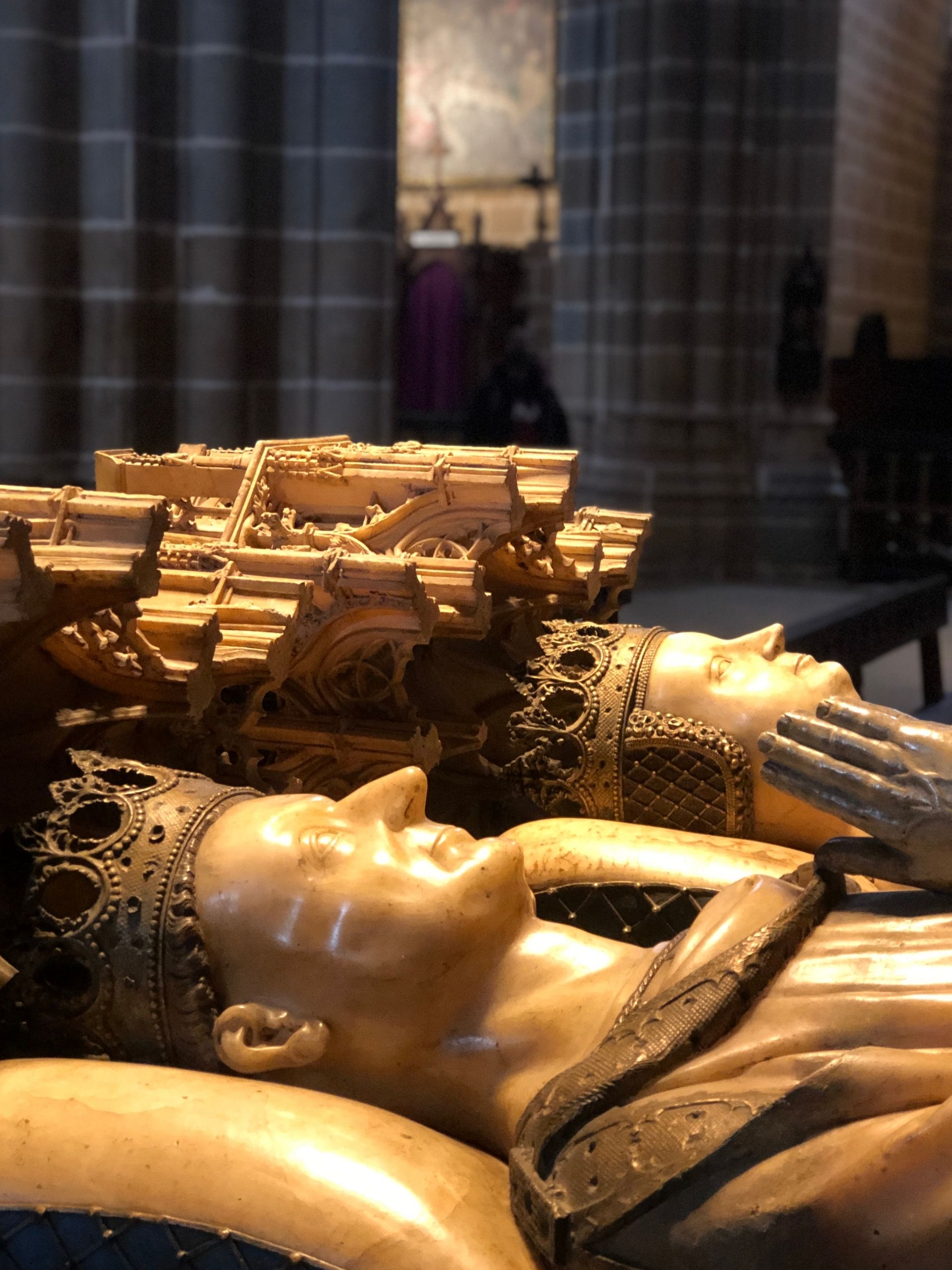 Out of the altar and at the feet of Our Lady, we find the royal pantheon of King Charles III (1361-1425) and his wife Queen Leonor of Trastamara (1363-1416)- the monarchs of Navarre who commissioned the construction of the temple. It is an alabaster sculpture by the French artist Jehan Lome de Tournay. The face of the king is realistic as he was alive when it was sculpted, unfortunately, the face of the queen is not so real as she had already passed away. The royal couple are buried in a crypt located underneath the pantheon.
Please check all the gigures at the feet of the Royal couple, it is the representation of all the religious orders that were present in Navarra at that era. They are considered to be the best images of that time period.
Along the ambulatory, we find symmetrical baroque altars designed in 1713. There are some magnificent altar pieces, two of the most spectacular are behind the altar. We find sculptures of local Saints, golden angels, golden flowers, even more golden fruits, it seems as if they had really got the King Midas' touch.
If you want to know more of Pamplona´s Cathedral, check this video. We made a life virtual tour of the temple. We hope that you enjoy it as much as we did when we broadcasted it.